July / August Update
28.08.2020
Crisis Skylight Birmingham have a had a busy couple of months.
Race to End Homelessness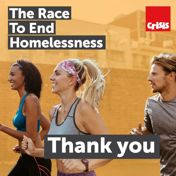 Crisis Skylight Birmingham's members, volunteers and staff got their running shoes on 24 July to take part. Some ran, some jogged, some walked, some strolled.
Together we proved that when people come together, the world can change. Each and everyone of our supporters are helping to make a difference to the life of someone facing homelessness. 
Via our local just giving page, our members and volunteers raised £265. We are grateful for each and every penny. 
A huge thank you to everyone who participated and fundraised, and to those who helped make the event the success it was.
So far, nationally, Crisis has raised a staggering £128,000 including £50k from our corporate partner The Berkeley Foundation.
Member Celebration
On 17 July, Crisis Skylight Birmingham held its bi-annual member celebration. We would normally be gathering at Carrs Lane Church to share with our partners the wonderful achievements of our members. This summer we were unable to meet together so we held our celebration virtually via Zoom.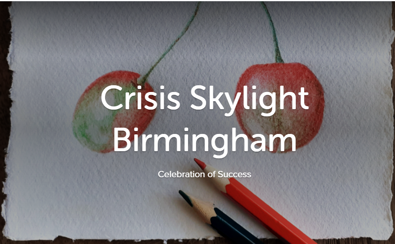 Matt Green, Skylight Director welcomed everyone to the virtual celebration sharing a run down on all Crisis had been able to do in Birmingham since lock-down measures were implemented and we as a team and as a service had to adapt the way we worked.
"We are in very different times and continue to journey through this pandemic together, learning and adapting as we go. When lock-down came, we adapted and changed our service immediately, continuing to provide much needed services to our members. Our wonderful volunteers have been on duty every week, helping us deliver food and well-being packs to members who were self-isolating and we continue to provide this thanks to the partnership work with The Active Well-being Society & others.
We acknowledge the digital gap, both in terms of access & skills. We have issued over 200 mobile phones & smart phones so members can work with their lead worker whilst remote working was essential during lock-down, keeping everyone safe but enabling access to support. We've also distributed laptops to members who needed access to digital in order to continue with college work, as well as Universal Credit and housing applications.
We have been proactive in our work to support others in immediate homelessness crisis. Skylight Birmingham provided lead worker support, as well as wellbeing packs and resources to people moved from the streets into the additional hotel used by Birmingham City Council, responding to the Everybody In initiative. We have also offered resource to support people with No Recourse to Public Funds and look forward to developing and progressing this over the coming weeks and months.
As an organisation we launched an emergency campaign that included fundraising to help keep our services going, but also to give grants to other organisations who were struggling during the immediate lock-down period. Crisis have since launched their "Home For All" campaign which at its heart is demanding emergency legislation that will prevent people most at risk becoming homeless as a result of COVID-19 pandemic.
Finally, I want to thank every single member of staff at Crisis Skylight Birmingham for their adaptability, determination and compassion in supporting our members in these very uncertain times. We have still seen members enter employment, enter stable housing and achieve qualifications and this is a real testament to the hard work of the staff team, perseverance of members and generosity of our volunteers.
We will continue to deliver life changing services, work in partnership with other organisations and our members, evolving our service to ensure our primary focus is ending homelessness for good for each person who comes to us." - Matt Green, Director of Crisis Skylight Birmingham
​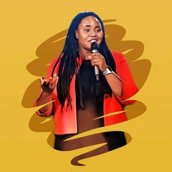 During the celebration, we heard from Sharon Thompson, Labour Councillor for the Soho Ward in Ladywood. Sharon gave our members an overview of the political situation and how homelessness was being addressed, especially during the time of Covid. 
Sharon also gave the opportunity for our members and volunteers to ask questions. We were so delighted that Sharon was able to join us and giving us her time and expertise. 
--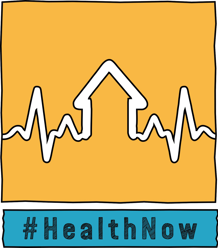 Our new member of staff, Frances, HealthNow coordinator told our members about the latest plans to address health inequalities for those with a lived experience of homelessness in Birmingham.
We have recruited volunteers for a new #HealthNow "Call and Check" service to support people experiencing homelessness with their health needs. Our Call and Check volunteers will complete weekly calls to people who are homeless, helping them to review their health needs and access the treatment they need.
Frances also shared with us the excellent work that our peer researchers had done monitoring the impact of the pandemic on people experiencing homelessness and sharing their expertise with local decision-makers at #HealthNow Alliance meetings
When I was homeless, I found it a struggle to get health appointments and also wasn't treated normally. If I could help change any of that, I wanted to be involved"
During the second half of the member celebration we broke into different zoom rooms and members took part in bingo or a dance fitness session. Everyone had a lot of fun and we could not have done it without the support of our volunteers. 
Rainbow Salads
In August, we held an event for our members who identify as LGBTQ+. 
They prepped and ate rainbow salads 🥗 for lunch over Zoom 😋
All ingredients were provided by Crisis and we spoke about the importance of eating a variety of colours of fruit and veg 🍅🌶️🥕🌽🥒🍇 and how to eat healthy on a budget 💸
👏 Thanks so much to our amazing volunteer Helen for leading the session.
I think you will agree, the salads look delicious!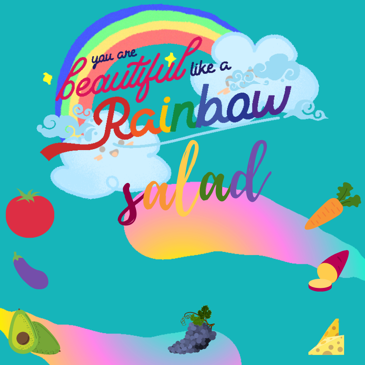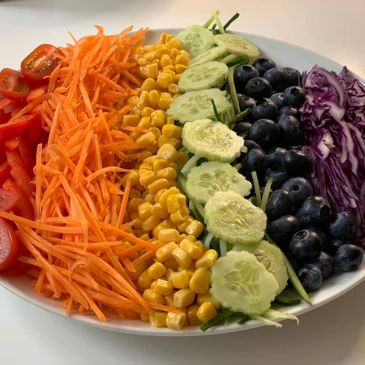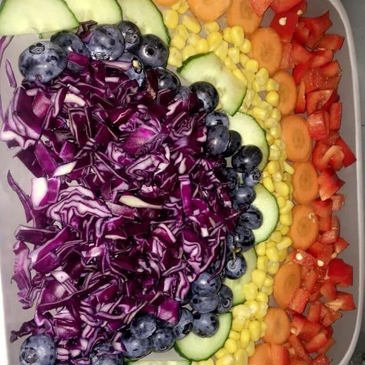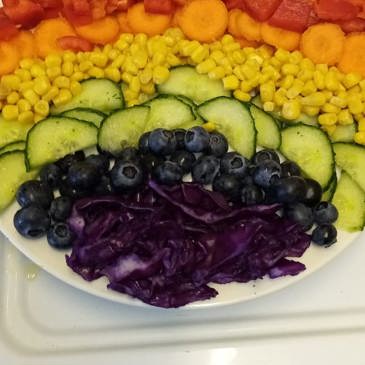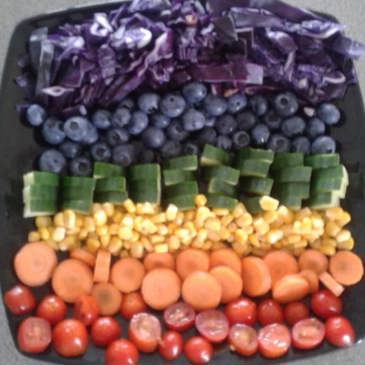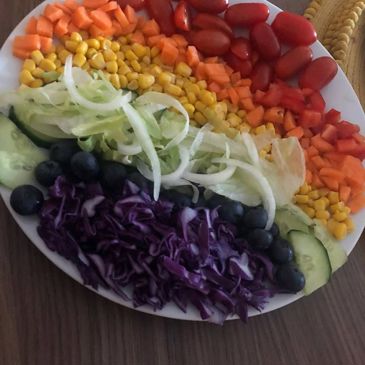 "I did enjoy it. My kids are currently eating the blueberries!" - Crisis Skylight Birmingham Member
"It was a very nice session" - Crisis Skylight Birmingham Member
"The salad tastes good too" - Crisis Skylight Birmingham Member
"… and give my special thanks to the head chef!" - Crisis Skylight Birmingham Member
Cup Cake Decorating
This month we held another creative food based event for our members. This time we held our first ever online, cross-skylight cupcake decorating session! Our skylights in Coventry, Edinburgh and Birmingham, Yorkshire and Merseyside all got together to run a joint event for our members. It was such a fab session and it was lovely to see all our members get together over zoom and have fun. We chose the theme of Emojis. Fondant icing and ingredients were kindly donated by Renshaws and Culpitt.
Here are the yummy looking cakes!
               
"Learning to decorate cake for the first time was fun for me" - Crisis Skylight Birmingham Member        
"I learned something new and fun. It was good to speak to people" - Crisis Skylight Birmingham Member
         
"It was so much fun and lots of laughter." - Crisis Skylight Birmingham Member
"I loved every second of it and the fact that we are all on the same skill level, total beginners, was very reassuring. I have learned a lot during the session which will encourage me to try other decorating ideas." - Crisis Skylight Birmingham Member
All these events have been running alongside a timetable of regular class from our essential skills and technical skills tutors, and the continuing support of members by the progression coaches and work and learning coaches.