Crisis Skylight Birmingham has seen a full and fun couple of months, mainly geared up and focussed on our Crisis at Christmas related events.
We managed to recruit over seventy eager and willing volunteers for our Christmas events this year. Everyone did so well adapting to the online approach to everything. This included confirming ID for the DBS checks to undergoing the volunteer induction training all via video conferencing. We would not have been able to provide Christmas events, food parcels, Health and Well-being packs or hot meals without the hard work and willingness of our volunteers.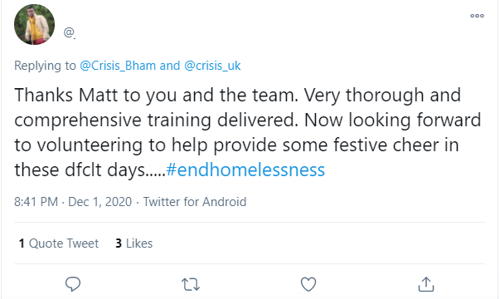 WINTER CELEBRATION
On 15 December we held our bi annual member celebration. As with the event in the summer, this had to take place online.
We showcased some of the art work our members had been doing over the past six months,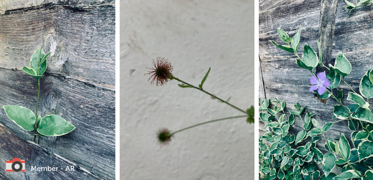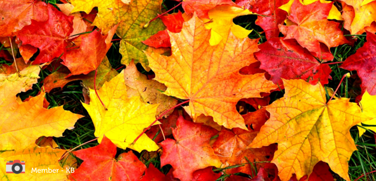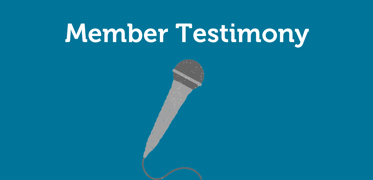 We heard from members who told their stories about how Crisis have helped them on their journey out of homelessness.
We heard from member "J" who struggled to pay his rent, ending up sofa surfing and turned to drinking. A family member introduced him to the work of Crisis and he signed up as a member for support. His lead worker supported J in securing a property and furniture to make the house a home. When J was diagnosed with an illness and Crisis supported J throughout lockdown with food parcels. J went on to obtain his CSCS card through the help of Crisis and has been able to secure employment.
We also heard from member "IE" who was homelessness and jobless. Crisis supported IE through this by supporting him, encouraging him, enrolling him in CSCS training and he has been able to get a job on a construction site. IE now has a flat through Crisis' support.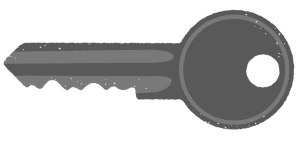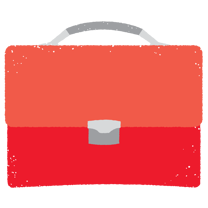 CRISIS AT CHRISTMAS 2020
Wellbeing packs, Food Parcels, and Art and Craft packs were delivered to our Crisis members by our wonderful Crisis at Christmas Volunteers. A massive thank you to our volunteers who made this possible and to all our supporters and those who donated items.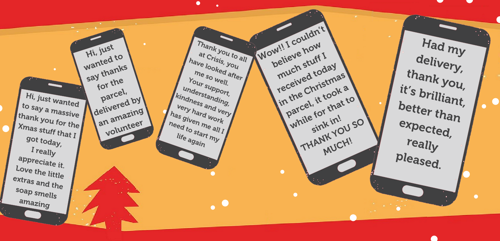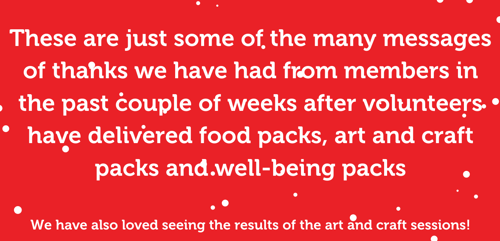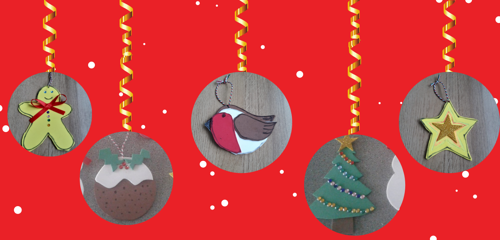 In the video below, our Skylight Director, Matt introduces what we were up to on Christmas day.
With our very hard at work Christmas elves (kitchen assistants) in the background packing and prepping our food delivery bags
with crackers, mince pies, fizzy pop and more! (and our chefs in the kitchen cooking the delicious food!)
#HEALTHNOW
At the start of November, Peer researchers began research into the patient experiences of people who are homeless in Birmingham. Interviews took place with over 60 clients of Crisis Skylight Birmingham, The Baobab Women's Project, St Anne's Hostel, Birmingham and Solihull Mental Health NHS Foundation Trust, Shelter Birmingham and others.
The peer researcher's findings will lead to an action plan tackling health inequalities in Birmingham.
As Peer Researcher Gulla puts it,
"this is a step towards something bigger".
Peer Researcher Vanessa's favourite part of the project has been connecting over shared experiences & making sure people know their voices have been heard.
It was great to meet with researchers and reflect on the process last week now on to the analysis!
Researcher Lee sums up
"I've spoken to so many inspirational people this week.
This research is a powerful tool: the more we do,
the louder we become because we have more voices behind us."
We are now recruiting for our next wave of volunteer peer researchers and applications are open