Volunteer in the Spotlight: Janet Collins
20.06.2017
772
XX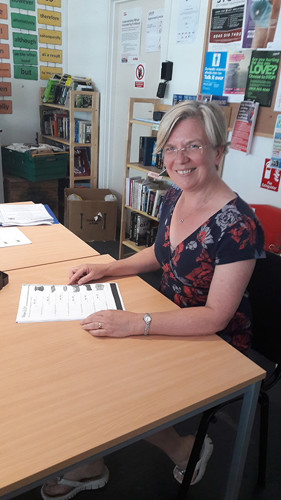 Janet first came to us as a Christmas volunteer in December 2016. She was so impressed by the organisation of the Birmingham Christmas event that she felt inspired to volunteer with Crisis all year round.
Janet first started volunteering in an outreach English class taking place at the Foyer in Birmingham. She works in partnership with one of our English tutors – Fehmida – and Fehmida has frequently said that Janet is 'excellent' – whenever it gets hectic, she says, 'it's fine though, because Janet's there'. Janet is making a vital contribution to ending homelessness by working with a wide variety of members to improve their English skills. Janet has volunteered for several one-off events – supporting us at the last minute with cinema and theatre trips when the regular volunteer had dropped out. She is patient, interested and passionate about supporting members, particularly those who have come to us as asylum seekers and has even considered taking in an asylum seeker as part of another charity scheme.
This term Janet started to volunteer in English at the Crisis Training Room, creating a vital link and familiar face for those who may have been initially reluctant to leave their hostel and come to our centre. Janet is also a keen gardener and has started to volunteer on our allotment in the Gardening class with one of our Smart Skills Tutors, Richard, helping members to learn more about gardening and growing their own vegetables. Richard says that she has a great manner when talking to our members and is genuinely interested in their wellbeing and their achievements. There is a great feeling of togetherness in the group and everyone shares in the tasks on the allotment.