Our members have unique experiences and understanding of homelessness and Crisis. Member involvement means more than simply using Crisis's services, it means members working together with Crisis to improve what we do and to end homelessness for good.
We are always looking for new ways to engage our members. This survey and information is part of a pilot project to send a monthly survey to Edinburgh members asking for feedback.  
We have a lot of things going on at the moment that we would love for our members to be more involved in.
These are some of our current projects: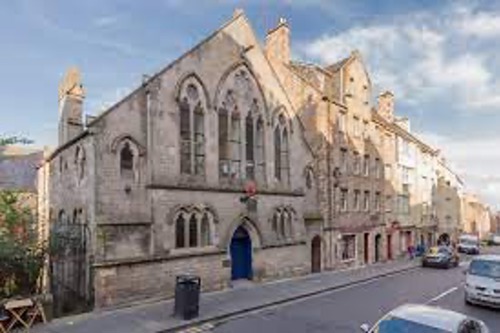 Our new building
Skylight Edinburgh has grown in the last few years, and we had to look for new premises. This has given us a great opportunity to find a welcoming, safe space for our members with room to develop our offer and services. We have secured a lease to a new building which should be ready by spring 2022.  
It's really important to us that our members are involved in the design and development of our new space.
We had a workshop (and site visit) with some members in July and some suggestions for discussion were:
Design, decoration and content of member-facing rooms 
Choosing furniture, furnishings, signage 
Hands-on - like painting a member mural 
Garden planning and development 
Facilities for members 
members design a mural or art/decorations 
Drop-ins that host partner organisations?  Who would this be? 
"Welcome" volunteers and/or social sessions for new members
Some thoughts from the workshop: 
"Really love the building" 
"Great character" 
"I Love the windows and the garden, shape of the exterior, all the natural light and open space" 
"Reception and mezzanine room are great spaces" 
"Potential to hold a number of events- fundraising, guest speakers etc" 
"Signage- we need people to know "this is Crisis"
"I can already imagine that this is Crisis building. Curious and unique" 
Please let us know if you are interested in hearing more about the building, and being involved in these discussions or future workshops.
Crisis at Christmas
Every year we offer food, companionship, activities and entertainment and support to our members over Christmas. Previously we delivered this together in one large centre.
Last year's Crisis at Christmas was entirely outreach due to the pandemic. We offered hot food delivery, wellbeing and gift packs, digital activities (on zoom) and wellbeing calls (a chat with a friendly volunteer).
This year we are hoping to run some face-to-face events, and would love your input into what this could look like.
These will be approximately three events over the festive season (and our annual Carol Service and members party).
We would like our members to decide what these events should look like, and when they should happen.
We are also looking for members to be more involved with the planning, design, and delivery of these events, please speak to your lead worker if you would be interested in this.
Peer support
Peer support is where a mentor with similar lived experiences supports a mentee who is at an earlier point in their journey.
This is a positive reciprocal relationship where both the mentor and mentee learn from each other. It is non-judgmental, with someone who has been there. It can help the mentor and mentee build skills, experience and confidence.
We are developing Peer Support at Crisis. In Edinburgh this would be a member, or someone else with recent lived experience of homelessness, providing 1:1 support and encouragement to members in a new tenancy (in addition to their lead worker).
Our Edinburgh Peer support program will launch later this year. Please speak to your lead worker if you would be interested in this.