Andy's story
02.10.2017
1773
XX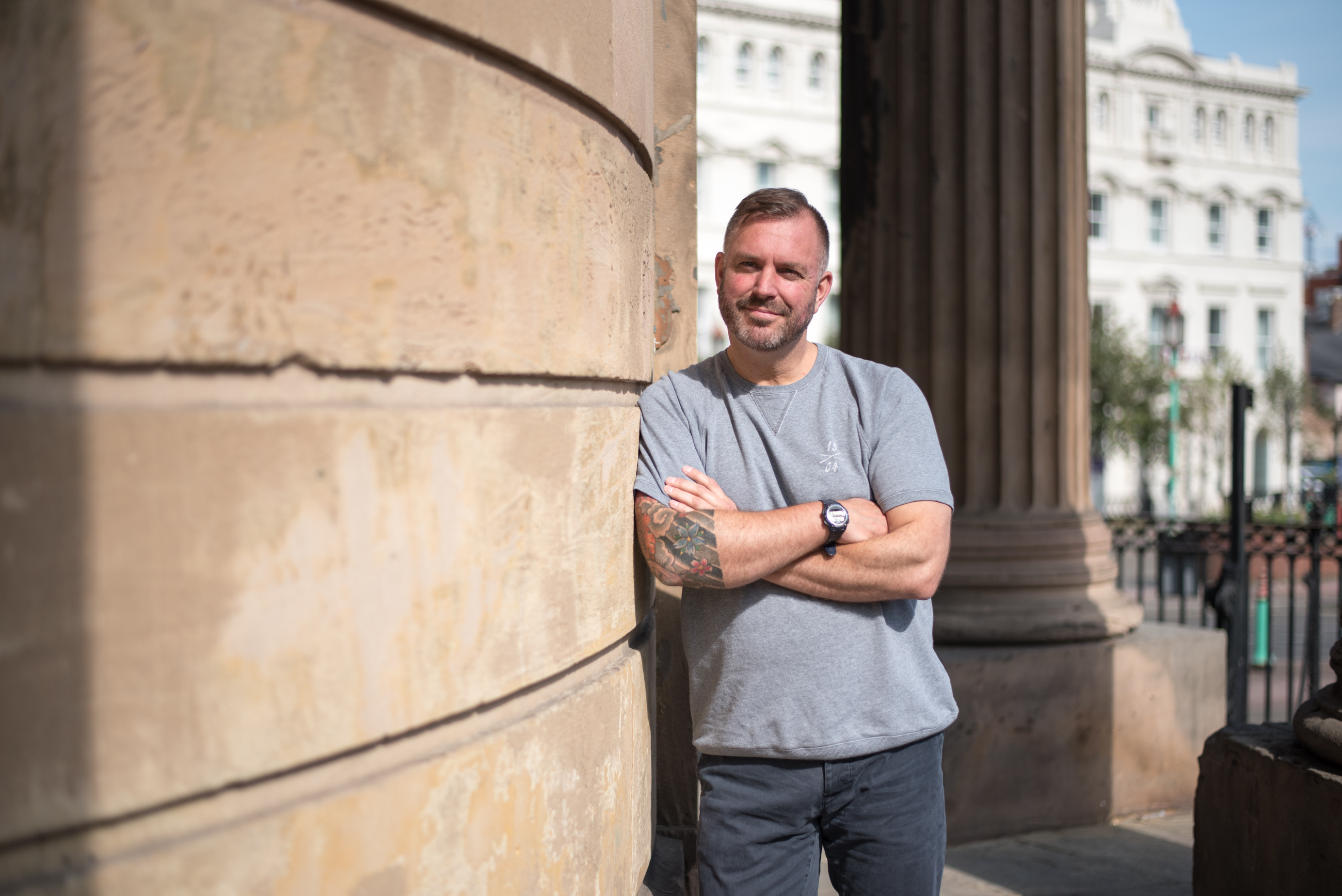 "I had a decent upbringing, but my parents divorced when I was 14 and I think that probably had an effect on me, although I didn't realise it at the time. After that I went off the rails a little bit and it took me a while to get back on an even track.
Me and my sister went to live with my mother and probably out of tough-love she kicked me out the house when I was 17 because I was too much of a handful for her. I didn't know what I was putting her through, but as I got older and got responsibilities of my own I realised everything she'd done for us. Later on I apologised and I made a bit of peace with her.
I always felt a bit unsettled growing up. I've had numerous jobs and as a child people said I was always restless and on the move. I had a lot of nervous energy and got bored very easily.
I didn't know what I wanted to do so I drifted for a while. I did quite a bit of travelling. I was only 18 when I first did a summer season in Magaluf at the start of the acid house craze back in 1989. After that I ended up staying in London for a year and driving double-decker buses. I passed my test on the old route master driving the 207 route from Uxbridge to Shepherd's Bush, but I wanted to go back up north to be closer to my friends and family.
I spoke to some of the bus companies around the Liverpool area but they said the minimum age for driving buses was 21 and in London you only had to be 18. I had to find something else to do so I went to work with my friend as a plasterer in Germany. I worked there for six months but eventually had to come home because I didn't have the correct paperwork. That experience gave me a lot of empathy with some of the migrant workers I work with now.
When I came home I got an NVQ level 2 in plastering just as the building boom picked up and I worked for several years as a plasterer after that. At twenty four I felt like another change though. I'd always been into sports and fitness and so I enrolled on a sports therapy course that qualified you in massage therapy and allowed you to become a qualified gym instructor.
After the training I was offered work on cruise ships as a massage therapist and I signed up for a nine-month contract. We sailed from Miami across the Eastern Caribbean one week and the western Caribbean the next. It was a good life but it was hard work doing 10 full-body massages a day. I met a girl on board from Bath and we got off the ships together and then settled in the northwest of England, but unfortunately there was very little work for a male massage therapist at the time so I had to go back to the plastering.
We bought our first house together. We got a mortgage and I did up the house. The plan was to do up a few more houses and live mortgage free in a few years time, but the relationship didn't last and after 18 months we had to sell the house.
I carried on working, but then one day I saw an advert for the Royal Navy. I always enjoyed being at sea, and there's a bit of a tradition in my family. Some of my family were in the Merchant Navy and my uncle was actually a diver in the Royal Navy. I enjoyed the training and met some great friends, but I was 29 and I was living with young lads just 17 or 18 who were having their own rights of passage, drinking lots and getting hammered all the time. I'd done all that, so I was the one with the older head in the barracks and tried to look out for them.
The Navy was home for a while and while I was there I met another girl. About six months later my daughter was born and I wanted to come out to be with her, so I left the Navy at 33, went back to plastering and became a father. Unfortunately when my daughter was four I broke up with her mother. I didn't want it to end and I tried everything to keep it together. My parents had split up and I didn't want my daughter to go through that, but it didn't work out. 
My 30s kind of flew by. I was self-employed for many years plastering, and I would see my daughter every other weekend. Then in 2007 I decided to open up a shop. A friend of mine worked in a factory making ladies clothes for Marks & Spencer, and they said they could supply me with the seconds. I was buying skirts and trousers for 50p and selling them for six or eight pounds, so the mark up and the profit was brilliant. I had two ladies working for me and I was still plastering at the same time.
I signed up for a three-year lease on the shop and everything was going swimmingly, but after about 10 months the credit crunch began and all of a sudden the small high street we were in started to look like a ghost town. Shops were shutting up everywhere. I ended up having to pay wages on company credit cards because the sales just went. I was in a bad financial situation and I was also working lots of hours plastering to pay my own bills and the shop's bills as well. I managed to keep ticking over for a while but eventually it had to go. I couldn't afford to pay the lease or the debts I'd accrued, and in 2009 I had to declare myself bankrupt.
After that I wasn't creditworthy for six years. When you're bankrupt you can't get a mortgage or loans. I couldn't even get a phone contract, and anything I earned over £800 I had to give to the creditors. I had some dark thoughts a few times. I thought about chucking it all in. It was really tough but I came through it. Something inside me said you're a fighter and you've got to keep going. I feel blessed in a way because I still had a trade, and as long you have the capacity to earn money and you have your health then you're fortunate.
I was living with another partner at the tine and sadly that relationship ended as well. The only thing I had was my van so I started living in that. I used to park in a couple of places in the city with other camper vans where it was safe and you only paid £1.50 between 6pm and 8am. I lived in the van for about six months. I would get a shower and a meal at the leisure centre and clean my clothes at the launderette. That experience made me realise how important hot food, a hot shower and clean clothes are for people to retain their dignity.
Eventually I registered as homeless with four councils in the Liverpool area. All in places that I had connections with, but there was only one council that would support me. All the others said that as a single homeless person I couldn't be helped. They said you've got to stay in a hostel or live on the streets, but all the hostels were full. I couldn't believe that I was in my own country and I couldn't get anywhere to live. It's got worse now. The rents are higher and the wages lower, so it's no wonder that people are on the streets. I don't think a lot of people know that and they should.
Eventually the council paid for me to stay in a bed and breakfast out in the countryside and the owner was actually a millionaire builder and I ended up working for him. 
Through plastering I had managed to save enough money to do a teaching qualification at the National Construction College, and after that I got a break working for a further education college teaching City & Guilds in plastering.
I enjoyed teaching, but they decided to close the plastering department down. I appealed to keep it open but I didn't get any support and I became very stressed. Eventually it got on top of me and I felt like I was going to have a breakdown. I decided to go to Spain after that in my van for a few months to recover in the warmth. I did some voluntary work, ran on the beach and got my health back. 
When I returned I got into plastering again, and then I became a construction tutor for a charity supporting homeless people, where I work now. When I first started it really felt like things happen for a reason. With my experience I felt like I had a lot of empathy for their situation, and it might sound like a cliché but it does feel good to give something back and it helps me too.
I thought homelessness was rough sleeping when I started but now I realise it could be sofa surfing, or you could be living in a hostel, in supported accommodation or just at risk of losing your home. It's really broadened my outlook.
When I was in Spain I remember a street homeless guy with really dark, weathered skin because he was out in the sun all day. He was always looking in the bins outside the restaurants, and before I left I thought I would try and speak to him. Just to give him a few euros and have a chat. As I was leaving I saw him and went over but he immediately backed off. I don't know whether he thought I was going to attack him or what. He eventually came over but he was still very scared. He took a few Euros in the end but he'd obviously been through a lot of trauma. It was actually hammering down with rain at the time and he had a little umbrella with him. Now I'm back in England I still think of him there sometimes, about what happened to him. You've got to count your blessings because there's always someone less fortunate.
All the things I've done in my life it makes you a more rounded person. I might not have all the material things that some people might have, but they haven't done the things I've done and seen the things I've seen. For good or bad. It could stem from being a restless child not knowing what I wanted to do, but also from a thirst for going to new places and trying new things. I try to be positive and philosophical. One thing I've learned from working with homeless people is that they're very adaptable and resourceful. Those are core life skills and if you've got them then you've got a good chance of coming through.
The biggest thing to overcome is people's preconceptions. People have got to change the way they think. People are on the streets for all sorts of reasons. Whether it's a relationship breakdown or guys coming out of the forces, not every homeless person is a scrounger. A lot of homeless people can't get benefits simply because they don't have an address. They're in a situation that's often not of their own doing.
I still see my daughter now. We go for tea after-school and she's come away with me for little breaks in the Campervan. I've also managed to save a small deposit to buy a house. I counted the number of addresses I've had over the years and I've had eighteen. I've had flats, I've had houses, I've lived in the back of a van, I've sofa surfed. I've never actually rough slept, but now I definitely have empathy for people who have."
Andy, Liverpool
By sharing stories we can change attitudes and build a movement for permanent, positive change. Stand against homelessness and help us end it for good.
Take action now
Clicking 'Take action now' will take you to a new form, where you can tell us why you're in to end homelessness, and ask your politician to pledge their support for ending homelessness for good.