Kev & Tom's story
02.02.2018
2072
XX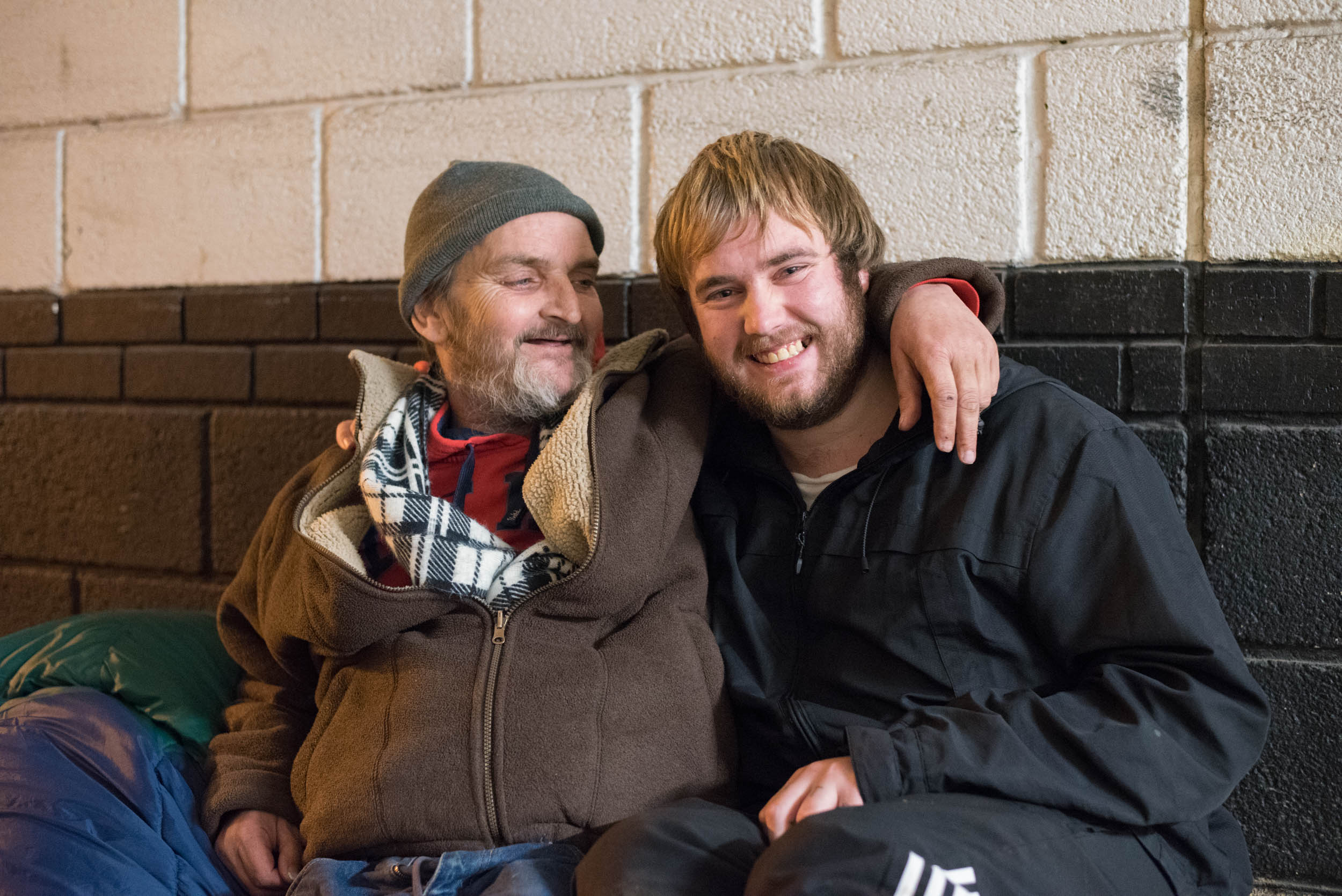 "K - I left home thirty-five years ago. My mum and my step-dad used to kick the shit out of me. My real dad abused me too. Even my brothers abused me. There wasn't anyone in my life who didn't abuse me. When I was fifteen I left the house with blood pouring from my mouth, my nose and my eyes but no one was interested in helping. I've slept rough all over the country since then and I've met so many other people on the street who've been abused.
T - I've self-harmed a lot and I drink too much because I've had similar experience as Kev in the past. My dad used to attack me and I'd always get the leather belt. I left about two years ago so he couldn't do it anymore but when I went to the council and tried to explain they said they didn't think it was enough of a traumatic experience. It ruins you mentally though. It wrecks your mental health. The people who do it don't want to think about how it affects you. The don't realise. It scars you. 
I got into a hostel recently but they told me I had to leave because I was drinking again so I'm back on the street. Being on my own in the hostel staring at four walls isn't good for my depression. It makes me want to drink more but they don't understand that. I think about taking my life sometimes but I don't think I could actually do it. I'm not brave enough. I don't know what to do to be honest. At least out here we have some company with people who understand, but Kev definitely shouldn't be out here at his age. The weather could kill him.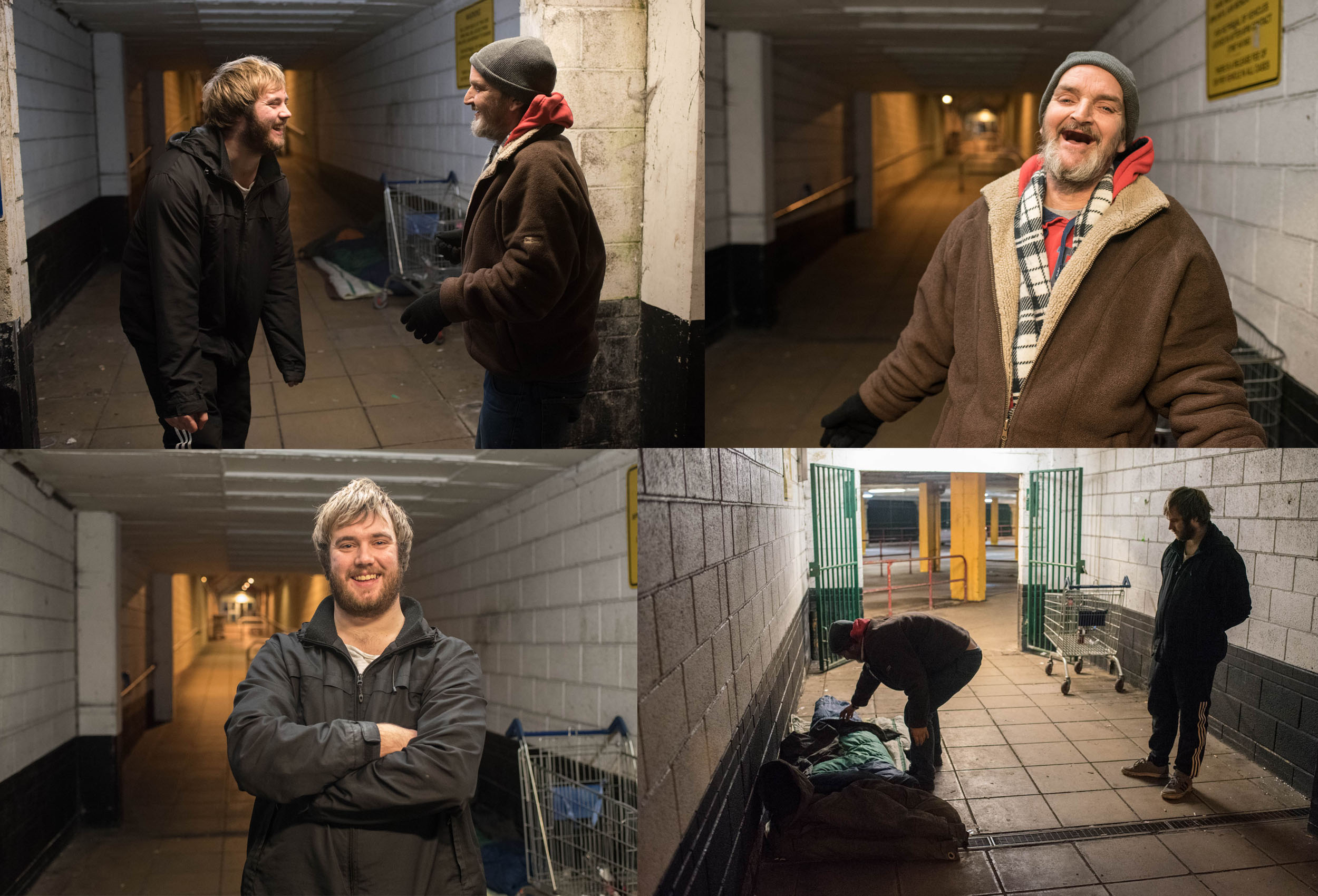 K - Because I'm in my fifties people think I should know better when they see me here and when people see Tom they think he should be learning. I went to Grammar school and I wanted to go to university too, but after all that abuse I never got near a university. It tears you inside out. There are things that happened to me that people wouldn't believe and I've got to live with that. 
People think we're evil villains but we're not. We can actually bring out the best in people if we get the chance, but I've had old age pensioners throwing shopping trolleys at me. I came back one day and someone had poured creosote and bleach over all my belongings. People spit at you and the security guards bully you and threaten you all the time. You feel like you can't respond in any way or you might get arrested though. It's like you don't have the same rights somehow. They just want you off the street. I was asleep with my head facing the wall down here once and someone kicked me in the back of the head. I asked the police to look at the CCTV but they just said, "You shouldn't be homeless." 

T - I've had people pour water bottles all over me while I slept. One of my friends who can't walk and has got hepatitis had the shit kicked out of him while he was sleeping the other day. We went to the council and the police to report that but they said they had no responsibility for it. They just said it wasn't their problem. They didn't care. One said to me that if he had to move me off the street again he wouldn't put me in a cell, he'd take me in the car far away and just dump me on the side of the road and leave me there to walk home.
K - When people speak to me they see I've got brains, just like Tom, but people give up on you. That's why we have to look after each other. It could save your life. If there's someone nearby who can see if you get attacked then people think twice. I'm a has-been, i don't think there's much left for me, but I want the best for Tom. I want him to stop drinking, I don't want him to have this life. I need alcohol to get through the day. Just to blank it out, but people just want to forget about you when they see you like that. They don't try and understand why we're here."
Tom & Kev, Chippenham. 
By sharing stories we can change attitudes and build a movement for permanent, positive change. Stand against homelessness and help us end it for good.
Take action now
Clicking 'Take action now' will take you to a new form, where you can tell us why you're in to end homelessness, and ask your politician to pledge their support for ending homelessness for good.