Digital fundraising materials
29.03.2017
We created some downloadable files to help make your fundraising a little easier - click on the images or links below to download.
Posters
We have a range of posters to help you advertise your fundraising, provide information about Crisis and share the amount you've raised.
Fundraising/Event Details Posters (PDF)                 
Bunting
Bunting is a great go-to resource for decorating any kind of event! Maximise your fundraising by showing that you're doing it to end homelessness. 

Sponsorship
Once you've planned your fundraising, set up an online sponsorship page on Justgiving and send the link to everyone you know. All your donations will automatically come to Crisis. And be sure to share your sponsorship page on Facebook, Twitter, LinkedIn and all your social media.
You can also use a paper sponsorship form to keep with you for opportune moments, to collect donations from people in person.

Download Sponsorship Form (PDF)
Thank You Certificate
You can thank those involved in your fundraising and share the amount raised.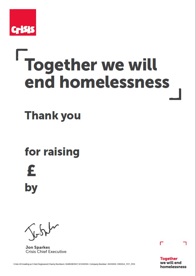 Download Thank You Certificate (PDF)
Social media 
We have images for Facebook, Instagram and Twitter to use to publicise your fundraising. Right click on the images and choose the option to save them to your computer.
Facebook
Instagram
Twitter
Supporting logos
Download a logo to show your support of Crisis on your communications.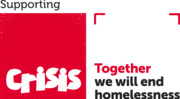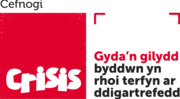 Download logo usage and placement guidelines (PDF)
Crisis and homelessness resources
Check out our YouTube channel for videos about homelessness and the work we do. You can share these on social media to help boost your fundraising. 
We also have a helpful booklet and leaflet that you can download to show people exactly why you're fundraising and encourage them to play their part in ending homelessness.