Adel's story. 'I've gone from that drunk, nobody wanted to know, to having my life back on track.'
"I was in and out of care from the age of five. I lost my father when I was three months old. Then my mother remarried, and my stepfather was forever battering us. My mother was always in the refuges. She was always running away. I was always wondering how long I would be in one school. As soon as I was making friends I would have to leave. That's all I knew. Just care. By the age of eight, it was like I was going on twenty-eight. I was always older than I seemed. It was a horrible childhood, but I pulled myself out of that. I got married. I had children, but it all started going down-hill when I lost my brother. He took his own life when I was twenty-nine. He was only twenty-six. We were really close. I brought him up. When we were chucked into the care homes, or chucked into foster parents, I had to look after him. So, I had to be stronger for him.The last time I saw him was the police cutting him down from inside the garage, and laying him down on the floor. Then I saw them putting him in a body bag and wheeling the body through the kitchen and into the van. I saw it all. That's when I hit the bottle. 
A lot of people who had a childhood like mine turned to drink and drugs at a young age, but I never did. I'd drink on special occasions, but I didn't used to drink much when I was young. It was only when Gary died. When I lost him, it was like my past caught up with me. That's when my addiction started then. He's been gone about fifteen years now, and I've been on the streets of Swansea loads of times since then, and that's all from losing my properties through drink. Going into prison, then coming out and having nowhere to go. Being on the streets, alcohol was the only thing to keep me going. I could focus better. I felt safer. You don't feel pain. You don't feel nothing. All you think about is where that next drink is coming from. You don't even think about food. In all that time, I've probably only had about two years clean, and that was from when I was in and out of prison.
I was drinking between 24-32 pints of cider a day, but I was a rake. The weight was just falling of me because the cider was just rotting me from inside. The only support I had from prison was through the chaplaincy, but this time, because I was leaving one week, and I couldn't see her till next week, they wouldn't help me. It was just basically - out, go - and that's how I ended up on the streets again. They used to give people leaving the men's prison a sleeping bag and tent. We didn't even get that. You had to be in prison for more than twenty-eight days to even get a discharge grant. And that's only forty-seven pound. The last time I'd only done two weeks.
I was on the streets of Swansea for seven months last year, right up until I was rushed into hospital at the end of January. I'd sleep wherever I could get my head down. On the beach sometimes. There's many times I've woken up and been absolutely drenched. I'd have to walk around in those wet clothes for hours and hours. It's a horrible, horrible feeling. I was vomiting blood for three or four days. I came out and was put into a B&B for the night, then I went down to housing options and went into shared accommodation. Housing options were throwing a lot of things at me, putting a lot of pressure on me, and I relapsed again. Then I ended up back in hospital. I nearly died. That's what it took for me to stop, and that's also when I started working with Crisis. I got a flat then. It was just a bare shell. I had no furniture or anything, but that was the main thing that made me stay clean. That gave me a major buzz. Knowing I can go home, and shut the door. Just sit and breathe. People don't realise the value of that. I knew I had to hold onto that flat no matter what happens.
I've been in recovery for 10 months now, and if it weren't for Crisis I wouldn't have anything. I would still be struggling and fighting. I can manage on my own, but if I'm really stuck, they're there for me. If I couldn't cope with something before, the first thing I would do is turn to the bottle, but because they're here, I know I can come in for support. They keep me going. Without that, it's really hard work. Since I've been working with Crisis, and since Crisis have been working with me, I've been building my confidence back up. I'm doing a lot of talks about my experience. I did one for JLL in Cardiff. They support Crisis with funding. As soon as I started speaking about my experiences of homelessness, they were all gob-smacked. I also volunteer with the arts and crafts club, and at the Hub drop in advice afternoon. I really enjoy doing it. It was brilliant doing the poem. (for World Homelessness Day) Up on the hill, we could see the whole town. It went really well. It was a brilliant day. I was nervous. No-one likes to see themselves on camera, but I had faith in myself. There used be an old boy I'd take food to sometimes in Swansea. I felt sorry for him. I took him Christmas dinner one year. Two weeks later he passed away on his bench. It was horrible. This is why I'm doing these talks. People are too shy and frightened to come forward. It's still early days, but in time, I'm hopefully going to do a course that could lead to a peer mentor position, so I can help other people.
There's a lot going on for me now. It's amazing. I've gone from that drunk, nobody wanted to know, to having my life back on track. People who know me can't believe it. Have we got the right Adel? They ask. They can't believe how much I've changed. But I wanted to change my life around. I got fed up of being on the streets. I got fed up of it all. There's only so much of it you can take. I took years of it, and I'm not taking it anymore. It's time for me now. I've wasted most of my life. It's time to live it now. I've got my daughter back in my life now too. The grandkids are seven and nine. It's my granddaughter's birthday next week. They can see the difference in me. We message every day and I babysit the kids. I've got everything going for me now and I don't want to mess it up. The way I look at my life now, it's like a snakes and ladders board. I might fall down a couple of little snakes, but they're only little. My life is going up the ladder."
Adel, Swansea.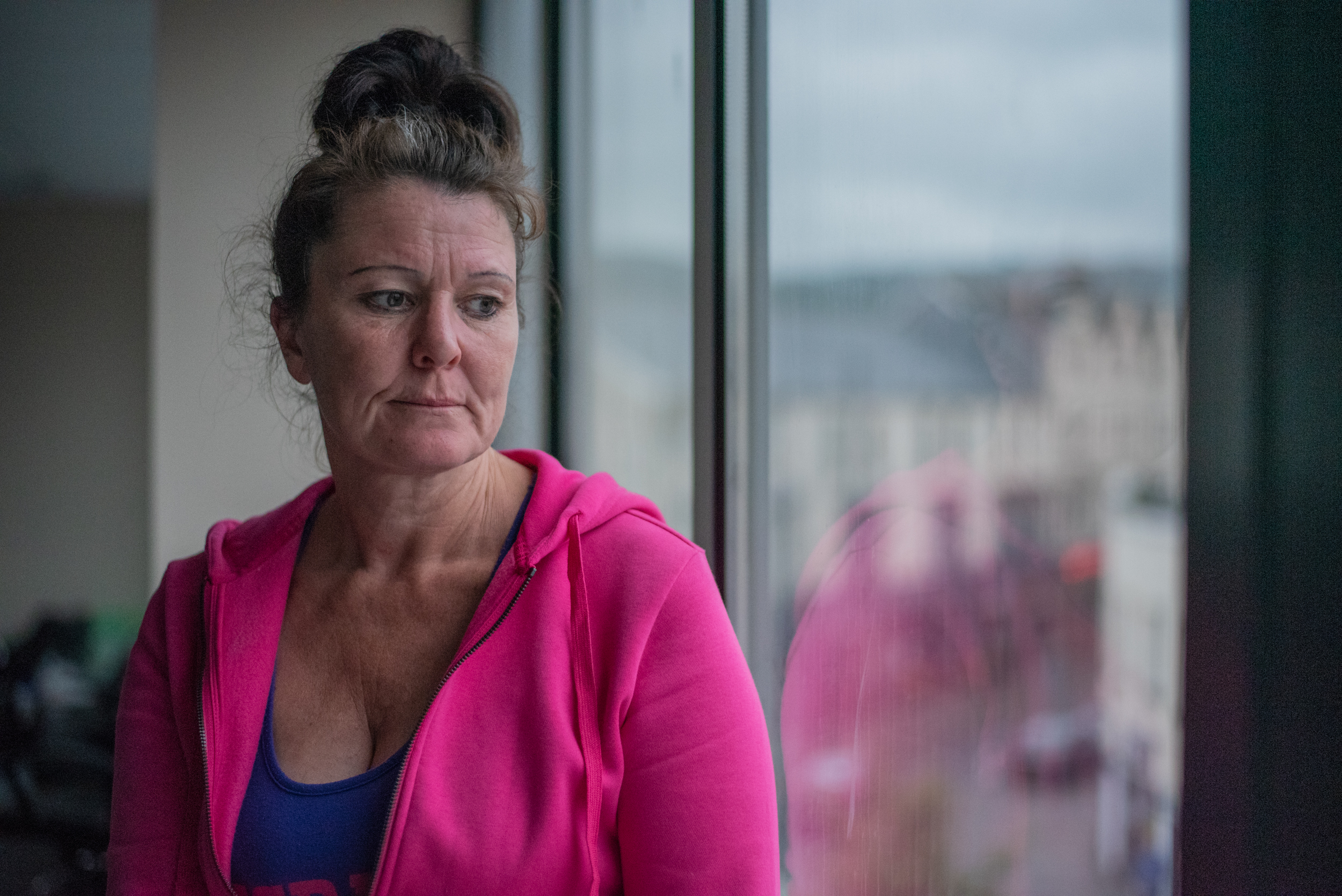 By sharing stories we can change attitudes and build a movement for permanent, positive change. Stand against homelessness and help us end it for good.