Darren & Colin
Colin:
I was walking along the theatre district about four years ago on my way to the gym and Darren was sort of just laying there on the floor, so I spoke with him and asked if he wanted to go to Macdonald's.
Darren:
I don't get that same reaction from most people. He's a breath of fresh air, but he hates to be told how great he is. My dog loves him too.
Colin:
When I started speaking with Darren I realised that even though our lives have gone down different paths we we're really similar people. We're only seven months apart in age. We've got the same humour and we like the same things. It's just very uncanny. When I got divorced I had one night when I slept in my car, and I know it doesn't equate to this, but I can try to relate. You can't help but think, 'There but for the grace of God go I'.
Darren:
Colin was also an officer in the Paratroopers and I did two years in the army cadets, but I wasn't allowed in the main army because I nicked £7 worth of photocopying money when I was fourteen and had a criminal record. I've struggled with addiction ever since then and I was one of the first homeless in Milton Keynes. There were only a handful of us back then. Now there are tents everywhere.
Colin:
He's also an amazing poet, and I really like poetry. He's really very good. Almost William Blake!
Darren:
Oh thank you!
I prefer to think of myself as Dylan though. He's Welsh and my surname is Thomas. Words definitely saved my life. I write lots of poems and I'm writing a children's story about Shelly the homeless snail. Everyone thinks she's a slug, but she's not a slug, she's actually a snail without a shell.
Colin:
I love that one!
Darren:
I think that would help teach kids about homelessness. Just recently a young lad walked past me and asked his mum if I slept there all the time or if I had a home too, and she said, "No, he has a house to go to as well, he's just sat there for now." I didn't say anything of course, I didn't want to upset them, but I did think that was wrong, not for my sake, but for the child's.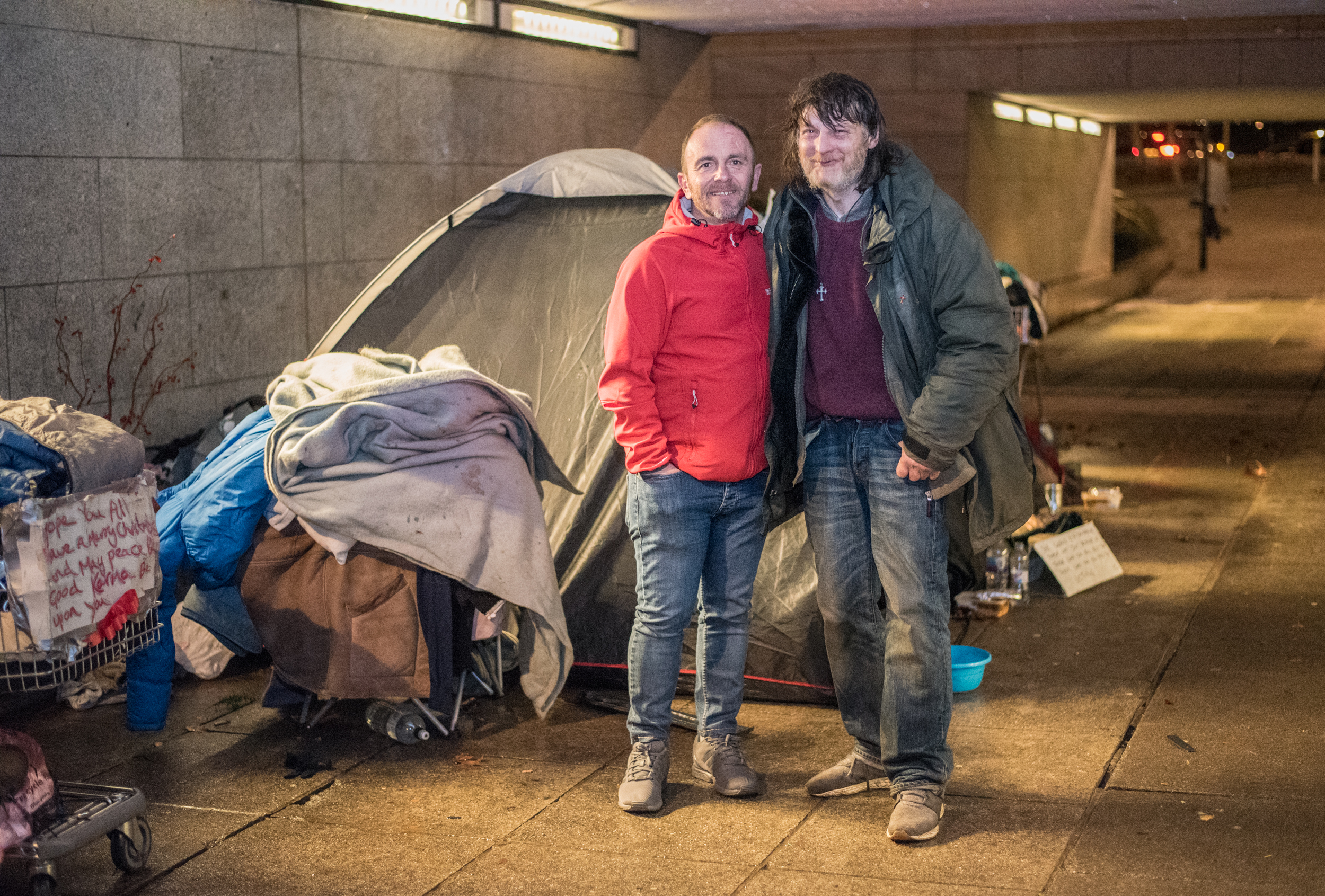 Colin:
Since I've known Darren I've seen all sides to homelessness and there's always a reason behind it. He's guided me through that. I've been a die-hard Tory my whole life and I get the way people think. It's horrible to see this, but even if you're conservative minded surely it makes sense economically to get them off the streets. If people hate the begging then you have to do something about it. If you move them on, where do you move them on too? Nothing's working is it. They just seem to get forgotten.
One day when I was having a coffee with Darren this woman gave me a fifty-pound note. I was sitting in a suit and told her I didn't want it, but she insisted so I gave it to charity. It reminds you that people very rarely ask questions or give people the time of day to hear their story, they think all they can do is give money.
Darren:
I've been wanting to tell my story for years, but somtimes it seems only people like Colin want to listen. I don't think anyone would believe it to be honest.
Colin:
He should definitely write his story down. It takes so many twists and turns and I think it would show addiction in a different way. I did a lot of work on his behalf with the council to help him get housed but they wouldn't treat the addiction as well, and he just couldn't maintain both things.
Darren's probably one of the most addicted people I know, but he's also one of the most genuine. I've given him lifts to lots of places in my car and I've always left my wallet there but he's never touched it. I wouldn't even think about it now.
Darren:
I know that wouldn't bother him, and I know he knows that, but hearing him say it means a lot to me. He's never said that before. Being homeless is just geography at the end of the day. He sees me as a person, not as a homeless person.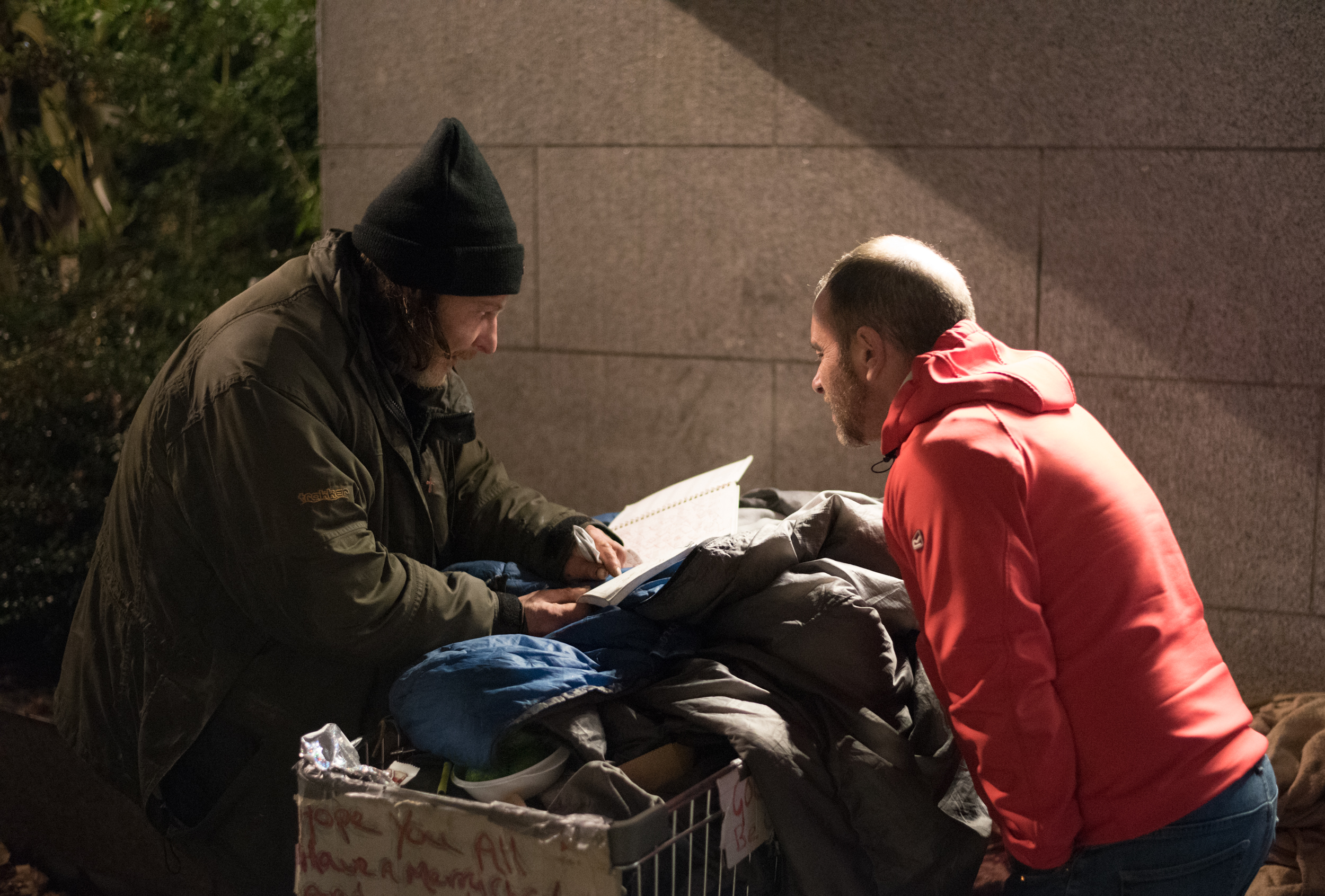 Darren & Colin, Milton Keynes.
By sharing stories we can change attitudes and build a movement for permanent, positive change. Stand against homelessness and help us end it for good.