Eric's story. Housing First: helping turn chaos into stability and hope.
"I left school at the time when all the heavy industry starting disappearing. The careers guidance teacher just said, get yourself a woman, have five or six kids, then go to the pub and the bookies every day. Imagine saying that to a bunch of school boys. I went to interviews but there was very little work for people of my age. The unemployment rate went from one million to three million. 
The first time I took drugs some boys across the street had bought a joint from their older brothers, then my sister's pals would come down and I would smoke with them and steal a little bit of it. That's when I knew I was starting to use addictively. By the time I'd managed to get a job my drug addiction had already gotten out of control. My drug use led to prison. Prison led to harder drugs. Then people involved with drugs led me to be unable to stay in the place that I had. I had to stay in different parts of the country, and my mental health started to suffer to the point where I had to see a psychiatrist. 
Drugs lead to behaviours you certainly wouldn't contemplate in your right mind, and that leads to worse consequences like homelessness. I always tried to find a friend to stay with, but I've slept rough, I've slept in night shelters and I've been in the big hostels. They were terrible those places. I knew one young lad who was injecting heroin within a week of being there. He hadn't touched anything before. That's what those hostels were like. It's a horrible thing. To have your life go from perfectly normal, to having no security at all.
Housing First was just very fortunate for me. I had a new psychiatrist at that time and she was aghast when she heard my story and the situation I was in. I was diagnosed with schizophrenia and lost in the madness of heroin. My life was in a complete crisis. She actually called me back personally the following day to give me advice about the Turning Point Crisis centre. I stayed there for a month, then I spent ten months in rehab, followed by nine months in a moving on centre. 
When it was time to leave I was told I couldn't get a housing association flat. That meant I had to get a private place, but I couldn't afford that so if it hadn't been for housing first I don't know what they would have done with me. They would have just put me back out on the street probably. 
The manager of the moving on centre knew about the Housing First project. I'd never heard of it before. When she looked into my case she said that if anyone was a candidate then I was. I was interviewed 6-8 times. They didn't explain too much about the actual project, they just wanted to know more about me. All I knew it was people who were trying to help me. I was apprehensive about where it could be, but they explained it would be a permanent flat and support for people with a history like mine. 
I was just asked, Eric, would you be interested. They didn't have to ask me twice. By that stage I just wanted my own place. I got my flat with them in 2014, so I'm already moving into my fourth year, and what a difference it's made. I dread to think where I would be without them. 
Knowing I've got a secure tenancy on my own place which I don't have to share with strangers is incredible. Just to be anonymous again was a big relief. I live in a normal community away from old influences. I have my own keys and I manage my own home. I know I could still get evicted, but having that responsibility has always made me not do anything to risk that. Just knowing that people believe in you and are prepared to give you that respect makes a huge difference. I've got a roof over my head, I'm able to get on with my neighbours, I have food and electricity. That makes me feel quite blessed now. 
At the start the support workers come and visit you twice a week, and often it's just for a chat and a catch up, but they also help me keep connected with all the other services, like mental health and drug rehab. They remind me about appointments and often come with me to attend them. It's been so positive for all areas of my life. From managing my home and encouraging me to keep in contact with my family, to just making sure I'm eating properly. It's great.
It's also helped me move on with different areas of my life. They want to see the best Eric I can be, and they're proactive in that role. They're always looking for opportunities for me. I got a years free pass in the gym and a library card which led to me keeping fit and doing some creative writing. I even became a paid published author about my experience volunteering in the homeless world cup. Now I always look for events that are coming up. I feel a lot better in myself, but the more things I put between drugs and myself the better. 
They can see that I'm running my own house and keeping everything ticking over now so I only see them once a week or so, but if I asked them for anything and it was in their abilities to do it, I know they would do. They always say, if you need anything just phone. I broke my arm once and they came with me to the hospital. When you have that kind of support it's absolutely fantastic. They keep encouraging me to write a book about my life, but for now my number one priority is to just keep stable and keep this house. That's the most important thing. 
Housing first is definitely part of the solution to homelessness. If this had been available in the past I think it would have really helped me, and I'm sure there are a lot of people in the same situation I was in. To be honest I didn't know what help there was when I really needed it. It was just a revolving door of drugs, prison and homelessness. I didn't even know there was a crisis centre until the psychiatrist told me about it. 
It turns out there is help, but I was just lucky they looked into my case when they did. I don't know where I would be without Housing First now. In prison probably. I've already got more than a dozen possession drugs charges and the last thing I wanted was to go to jail again, but I know homeless people who would intentionally get themselves in jail just for the winter. That's the reality of it, but when they're kicked out on the streets it just leads to more drug and alcohol abuse. You hear some terrible things that are going on now with homeless people. If the security, safety and support I have now was available for everybody, that would be a great thing."
Eric, Glasgow Housing First, Turning Point Scotland.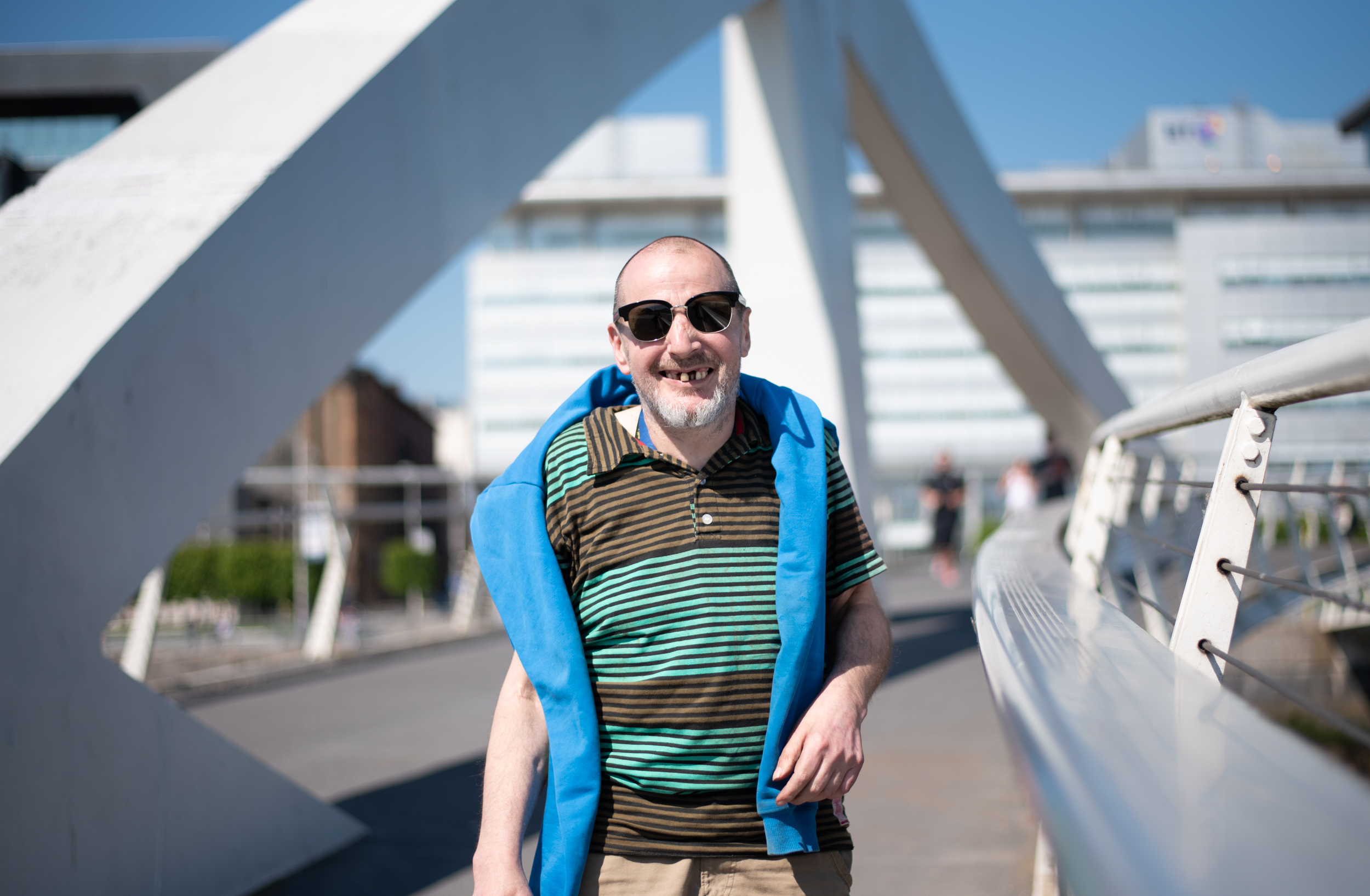 Housing First is an internationally evidence-based approach, which uses independent, stable housing as a platform to enable individuals with multiple and complex needs to begin recovery and move away from homelessness.   
Through the provision of intensive, flexible and person-centred support, 70-90% of Housing First residents are able to remain housed. Having a place to call home also leads to improvements in health and wellbeing, and reduces ineffective contact with costly public services.
Unlike other supported housing models, individuals do not need to prove they are ready for independent housing, or progress through a series of accommodation and treatment services. There are no conditions placed on them, other than a willingness to maintain a tenancy agreement, and Housing First is designed to provide long-term, open-ended support for their on-going needs.
The Housing First approach was first developed in New York by the Pathways to Housing organisation in 1992. It has since been widely adopted in the USA and become central to the national homelessness strategies in Canada, Denmark, Finland and France, demonstrating widespread success.
Homeless Link, About Housing First.  
By sharing stories we can change attitudes and build a movement for permanent, positive change. Stand against homelessness and help us end it for good.