MJ
"I beat myself up all the time with guilt and anger because it was me who contacted them. I constantly think to myself if only I hadn't phoned them this may never have happened. I wasn't doing so badly. I was drinking too much but the kids were clean and well fed and they had their mum. At least what I was being as a mum at the time. I knew that wasn't fair on them. But that's why I asked for help. They should never have taken them away from me. I was a single parent to three kids trying to get away from an abusive relationship and I was struggling with grief after my sister died. She was my closest friend and she was given two months to live. It was so quick. She was always the one that kept the family together and after she died we broke apart. I just needed a wee bit of help and support to put things right but instead of helping me they decided to take the kids away which made everything so much worse.
13th December 2013. It was a Friday. They went to school and never came back. I'll never forget that day. Never ever. It was hell. I was so angry I wanted to go to the papers about it because it was so unfair. Everyone asked how they could just take them away like that? All my friends and neighbours. People in shops and strangers in the street. Even the lollipop lady couldn't believe it. I didn't understand. My family didn't understand. I still don't understand. I've learnt to accept it. But I shouldn't have to.
I used to have supervised contact every week for an hour but there were times when I'd go to the social work office and they wouldn't even have a room for us. We just had to walk around the corridors for an hour. After they were taken I came to Edinburgh to try and get work and sort my life out but it never worked out. I stopped drinking. I've not had a drink in three years, but that's when I started using drugs because I just couldn't handle life without them. I became homeless and got very thin and they said that the change in my physical appearance would traumatise the kids so they cut contact altogether for a while. I cried so much. 
I've tried to stay clean since then. I've been on a script and I go to the council every single day to see about accommodation but there's nothing. I've had a few temporary rooms and hostels but nothing that lasted. I saw my wee girl over Christmas but now the social said that I have to reapply through the courts to see if it could carry on. I thought it was going so well. I jump through all their hoops but I'm sleeping over a big hot air vent not far from the station and I don't know if I can face it. I've been there for about three or four months.  It's not that I want to give up on them. Just give up on the system.
The drugs are just a comfort. But I hate them. I hate myself every time I take them. It just numbs you for a while so you don't have to feel like this. It's like a routine. Just a big circle that never ends. But the only other option seems to be to sit in the freezing cold and think. And that's dangerous. At least I don't drink anymore. That's probably been a life saver for me.
If I thought for a second back then that I would have ended up on the street like this I would never have picked up that phone. I knew I needed to change. But not like this. Not in this way. You take things for granted but then everything can change just like that. I shouldn't be sitting here everyday like this. I should be home looking after my kids and I'm not. My wee girl is becoming a teenager and I'm not there to help her through that. I blame myself all the time. I know I've got to stop that blame or I'll never be able to help her. To get a house and see my kids. That's what I hope for. But I don't know if it will ever happen. Sometimes it seems like it would be better if I didn't wake up. It's a terrible thing to think. My mum's already lost one girl but it would be easier.
I can cope during the day because everything's busy but when I lay down at night it hits me and it's getting harder and harder to live with. You don't see the reality of life until you're like this. The cruelty of it. How ignorant people can be. We try and stick together but there's only so much you can do with nothing."
MJ, Edinburgh.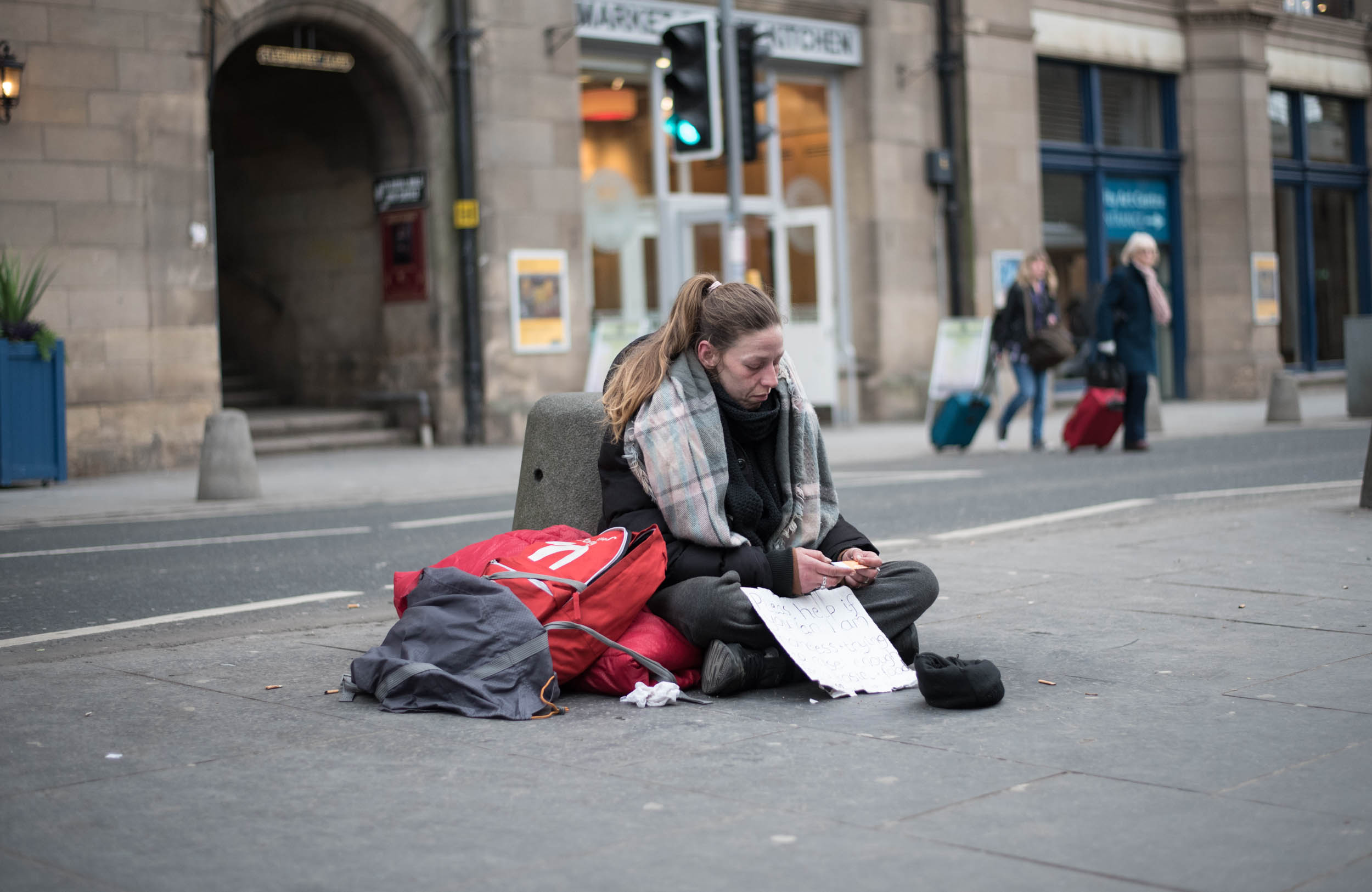 By sharing stories we can change attitudes and build a movement for permanent, positive change. Stand against homelessness and help us end it for good.