Owen's story. 'I never thought how being gay would contribute to being homeless until I became homeless myself.'
I first realised I was gay when I was about fourteen. I didn't have an easy time coming out. It led to me shutting that side of me away for a very long time. I was also very badly bullied at school because I was gay, but there were no teachers I could talk to. When I left it was such a huge relief not to have to deal with that anymore, but that's also when the drink and drugs came into play. It was a way of coping with the stress of not being able to accept myself. It was like an internalised homophobia against myself, and that stuck with me right up until today. I think just the build-up of all of that has led to so many issues that have led to me becoming homeless. 
My alcohol and drug misuse led to some very unstable episodes of mental health. I was a totally different person from what I am normally. In the end I had a breakdown and felt suicidal. I was acting very irrationally, and I was sectioned a few times. I came out of hospital on Christmas Day 2018, but I still was very unstable. I wasn't getting the help that I needed from mental health services or my alcohol issues. 
I was also still working and functioning as journalist for a national newspaper, but it was going downhill quickly. In the end I had to tell work I was having some issues and needed to move. I didn't tell them the full story. After that I went into survival mode. I was sleeping in my car for about a month. It was freezing cold, but at least I had some shelter at night time, even though I had nowhere to go during the day. An outreach found me and got me into a homeless shelter, and they also helped me to register as homeless with the council.
I knew of Crisis, but I thought it was a just like a helpline. I had no idea they had a centre here in Croydon. When I found about them through the shelter I registered for every class I found remotely interesting to keep myself occupied. I also got help from the mental health and well-being coordinator. All I had was Sainsbury's bag for life with all my stuff in it with just one or two changes of clothes and I could come here in the morning and get a shower and wash them. It's also just a nice place to come and get a cup of tea and have a chat. I literally had no-one left in my life except a couple of friends, but thanks to Crisis, I had a lot of support and met a lot of people going through the same situation. I don't know how I would have coped without it to be honest. I don't think there's many days at the moment when I don't come to Crisis. We're really lucky to have it here.
I never thought how being gay would contribute to being homeless until I became homeless myself. Never in a million years, but I've found Crisis really inclusive for LGBTQ+ people. A big part of my mental health was facing up to being gay. I thought I had accepted it, but a lot of personal issues have come from that. There are a lot of issues surrounding self-esteem in the LGBTQ+ community, and that can lead to issues with drug and alcohol misuses, bullying, and being cast out. It makes you feel like you can't properly fit into the world.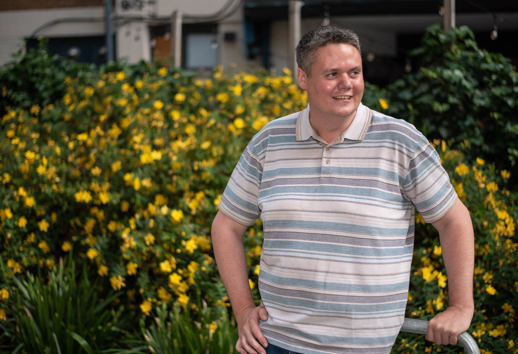 Being a Rainbow Ambassador for Crisis has been a really amazing way to boost my own self esteem around other gay people. I've always avoided mixing with other LGBTQ+ people properly before. We've been doing training for staff and other organisations like the Council and housing associations on how to work with LGBTQ+ people who become homeless. It's really helped in terms of my personal experience. I realized I don't have to be awkward anymore and that's helped me to be more comfortable with myself. If you've got low self-esteem problems anyway, when you become homeless it then takes a further knock, and coming back from that is really hard, so having something like this is really valuable. That boost in self-esteem will give me confidence going into situations in the future where I have to be completely independent.
I'm in supported accommodation now, and I've also been in recovery from alcohol and drugs for six months. I think I always clung on to the feeling that I was worth more than what I was doing to myself. I never ever let that go. I just didn't want to be what I had become anymore. One day I also hope to get back to working in newspapers, but I'm taking it slowly.  
We're also preparing for marching in Pride with Crisis. I never thought I'd be able to go, and Crisis have given me the opportunity to do that. I'm really looking forward to it. It should be really fun. We're hoping to raise awareness of the stories of LGBTQ+ people who become homeless, and having a presence at an event like that might make people aware of the issues LGBTQ+ people face that can lead them to being at higher risk of homelessness, and hopefully prevent it happening in the first place.
Owen, Croydon, Jun 2019 
By sharing stories we can change attitudes and build a movement for permanent, positive change. Stand against homelessness and help us end it for good.