Sandra & Darren
Sandra:
We became good friends last October and then got to know each other first before we got into a relationship. I was coming back from seeing a friend and he was sitting in my spot. I was really shocked to see him because I thought he had somewhere to stay, but I already knew him so I couldn't just kick him out. We started chatting and have been together ever since.
Darren:
I was bullied out of the place I was living. It was a private flat and the landlord let it to the wrong people and they made me leave. We had met before but that was my first night on the streets when I spoke to her. We told each other our stories and that was when it began.
Sandra:
I've not been in trouble since we've been together. I was in and out of prison for a long time, but we were both so sick of that lifestyle.
Darren:
We both had some bad habits when we met, but somehow we just stopped the whole lot. No rehab, no help. Just each other. After Christmas last year we decided that on New Years Day we would leave all that behind and start a new life together. We moved away from the West End and all the bad influences we had there and went somewhere where no one knew us and we could start to move on.
Sandra:
The catalyst for all that was being together.
Darren:
It's so nice being with her at Christmas. It's like she's my saviour. We've had so much good luck lately it seems strange. A couple of months ago we had nothing to eat but then we just found £450 in the middle of the road. Then we put £1 in a slot machine and won £300. We thank God for it all, and we made sure we shared it with our friends on the street.
Sandra:
We definitely believe in Karma now, so we made sure to help other people. We know some of them might spend it on drugs like we might have done in the past, but at the end of the day, we've been in that situation ourselves so we don't judge them. It doesn't matter what they do with it, we give freely and with love. We don't look down on them. 

Darren:
Christmas is so much nicer when you're with someone. We can have Christmas dinner together and get some sleep in the warm. This year we're spending at Crisis, and then we're planning to move onto somewhere outside London where we're not known at all. I'm an experienced bricklayer so as soon as we're safe somewhere I want to get back to work and start a normal life again together.
Sandra:
So do I. Back to a normal life.
Darren & Sandra, Christmas Day, London.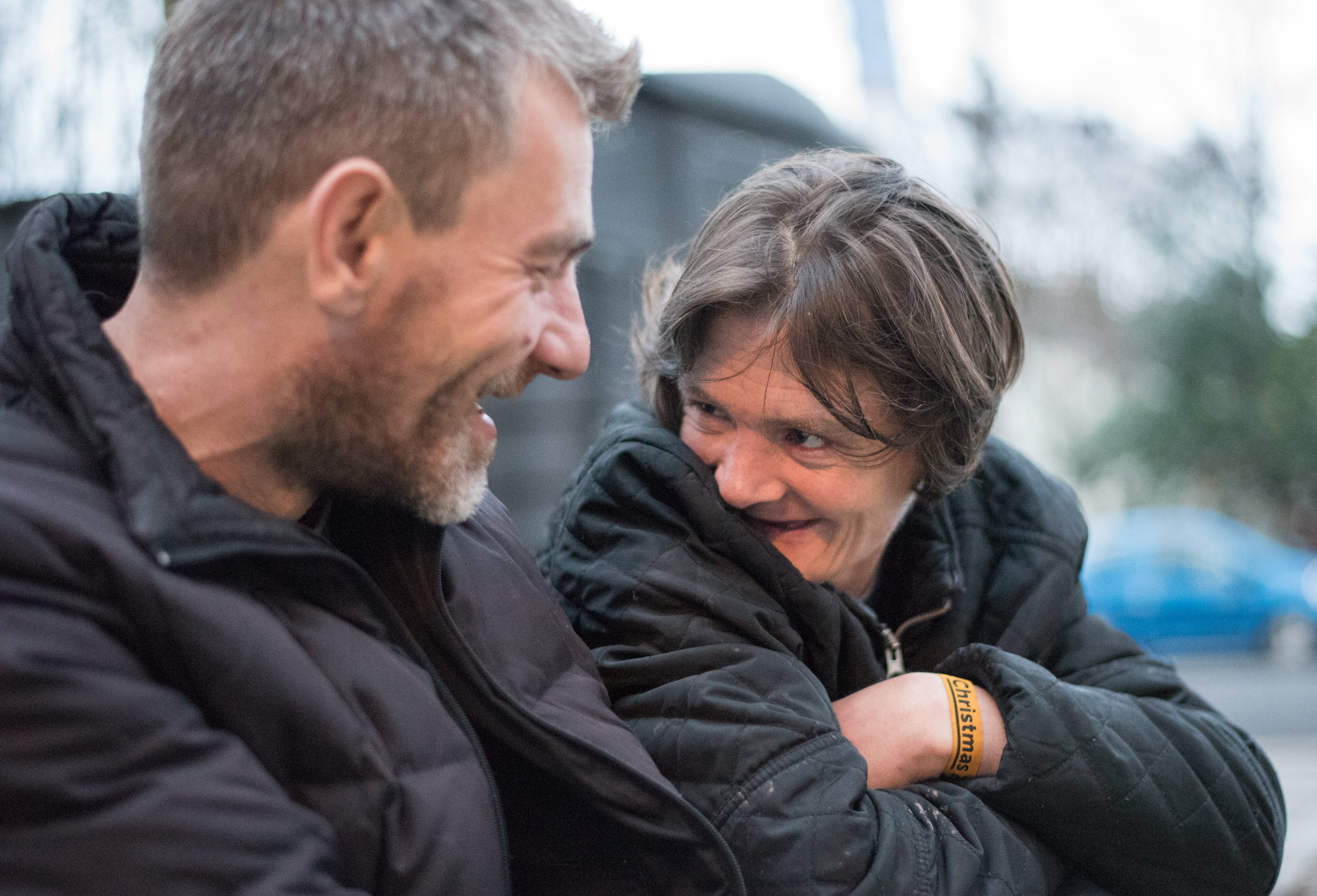 By sharing stories we can change attitudes and build a movement for permanent, positive change. Stand against homelessness and help us end it for good.