Stefan's story. From homeless to Poet in Residence.
"I had a break down when I was thirty-seven. After three years of being thrown around by mental health services I was feeling completely despondent but then one day my social worker suggested that I write down in a letter about how I was feeling. The first two lines read, How would you feel sir and what would you do, if the world was just grey with no shades of blue? As I wrote more I realised I was writing poetry. I also saw how much I was learning about my own mental health and how it's not just a personal thing but something that everyone needs to talk about.
I performed that poem at an open mic in Margate three years ago and the reaction I got was awesome. The pub was packed and I was shaking but I liked it so much I carried on and since then everything has gone bananas. I wrote mainly about mental illness in the beginning but it was so cathartic that I started to write about other things I'd experienced like homelessness, and everything just went from there.
Now I perform to crowds all over the country and I'm the Poet in Residence here at Crisis. I also run my own open-mic night in Margate and I give poetry workshops to groups of people who might benefit from poetry as much as I have. After my breakdown talking to people was torture. I was spending 95% of my time indoors and poetry became my way of connecting with the outside world. I'd been a chef for twenty-five years before that and suddenly I had a creative outlet again.
I was homeless in London when I was twenty-one. I was arguing with my mum and dad all the time and left home with nowhere to go. It was in the middle of November and it was just about as bad as it gets. Being homeless myself gave me an insight and an empathy into what long term rough sleeping is really like. I think I was lucky that I had a good standard of education before I became homeless but so many people find it hard to fill in forms and access the right services, especially if English isn't your first language. One of the greatest benefits of the workshops we run for Crisis are the improvements in literacy for people. In a way the poem is just a fun thing they get to perform at the end.
It's a very personal thing to write poetry. All you need to be a poet is pen and paper or even just your memory but when you say it out loud it becomes a very different beast. There is a combustion point between the stage and the page where it just works. At the open-mic night I run we've put thirty-seven people behind the mic for the first time in the last year alone and you can see the change in them immediately. It's like a metamorphosis. They lose their inhibitions but they're doing in front of such a supportive and loving crowd that you can see the weight lift from their shoulders as soon as they get the applause.
The workshops are much more about starting a conversation than poetry. The whole idea is to connect people and get them talking. You might ask something like, 'What I need for this world is…' or, 'What I have is …' and then they fill in the gaps. I sometimes help them make it rhyme or give it good assonance and make it bounce but all the poetry is written by the members.
I never really thought about poetry when I was growing up. I didn't know about Tennyson or Byron or anyone. That first poem was a complete accident. The only similar thing I ever did was write little rhymes on bar mats to get the attention of pub staff. Instead of waving a twenty-pound note at them I wrote them a short poem to make them laugh and I got served first every time. Now it's completely changed my life. I didn't know it would help me this much but it has. I think people respond to poetry because they can see there's no right or wrong in it. There's no bad line if it's come from you."
Stefan Gambrell, aka 'Neanderthal Bard' & Crisis Poet in Residence, London.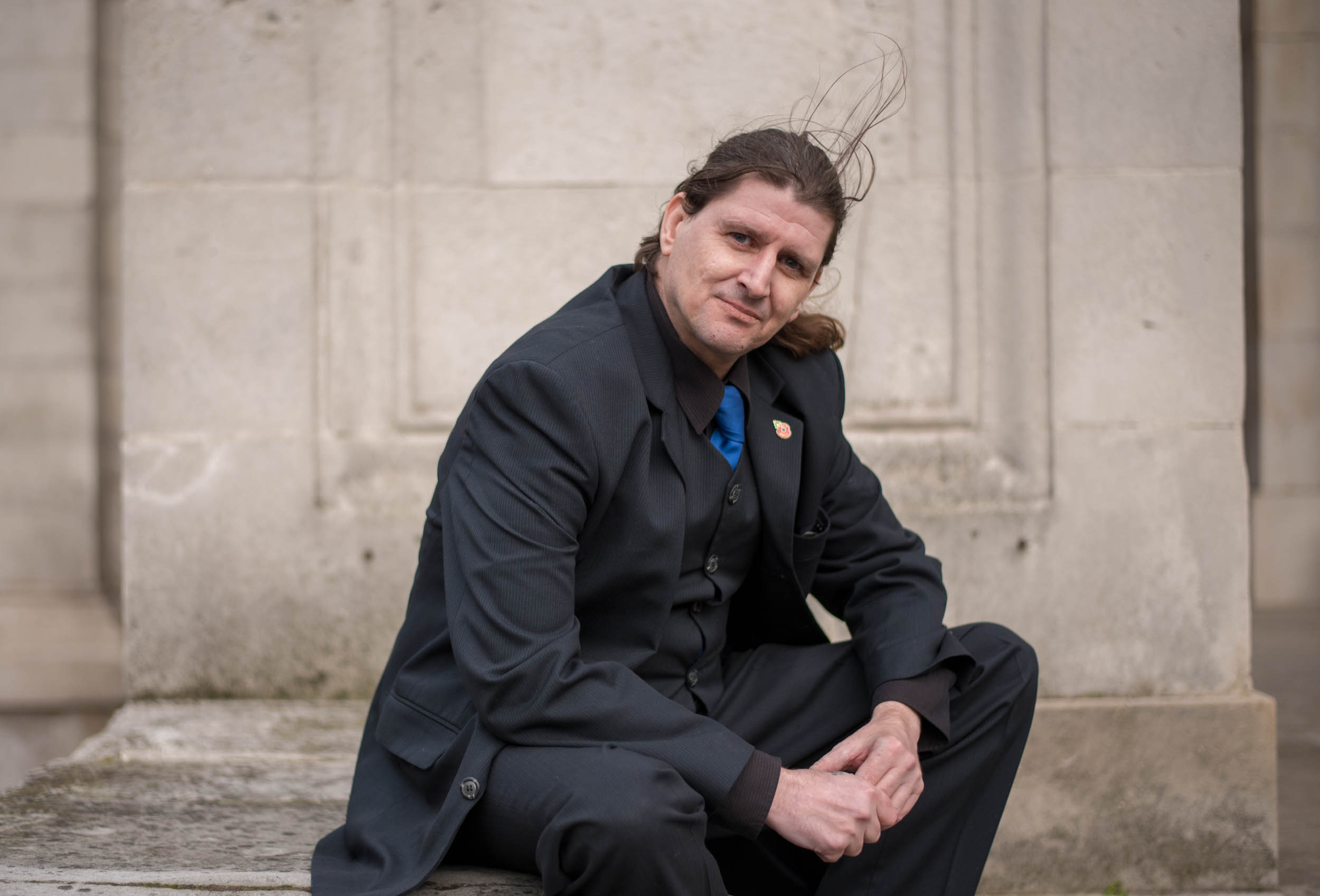 Aldgate East was the station I needed I was all heavy breathing I was nearing this Crisis, I was nicely surprised by 5 pairs of eyes some young and open wide, others older but twice as wise awaiting my words but I learned more from you than I could ever give, please stay positive.
Little Shakeela as a small girl you have seen the hurt in this world, you should use self-worth girl and SING. As your life begins dream big dreams, become that fashion designer flying high in business class, make them haters kiss your arse.
Phillamonic Phill with your classical tunes even you spilled the truth, you didn't lose a thing in translation, navigating amazing phrases I saw your faith in changing you, please seek help too and accept it because self-help can be a living hell so extend it through friendship. 
Oxford Dave that day I saw my Dad in you, he is quick to catch on and you are proper clever too. You are a face reader with an underrated style, a gauger of smiles can spot a fake one from miles away, happy days.
Steve my buddy mucker my mate, what can I say come to Margate for the day. Your unashamed sharing blew me away, now your Belmarsh days are part of your past you have become the master in charge of your own ship. You kicked that shit to the kerb when you heard your inner you, and you saw your shit state dumped old mates and chose you, a new sober view. You used your nose, opened your mouth, got help from Latch house, look at you now you have done yourself proud.
Last but not least, whatever "IT" is Patrick you have it in abundance, you have an open comfort zone don't ever doubt you Bro. I hear slick quick beats as you spat fat bars you should be living large star you are a word soldier remember what I told you. Poets with patter like yours are the reason I'm doing this tour, for your words deserve to be heard, you have earned my respect, now yours is mine to get and then protect.
I will remember the day I wrote you all your own verse, you lot were not just a workshop, you were my first.
By sharing stories we can change attitudes and build a movement for permanent, positive change. Stand against homelessness and help us end it for good.