Investigating race and homelessness 
Crisis' Research and Evaluations team is investigating the relationship between race and homelessness in a bid to tackle the problem.  
Current homelessness figures for England show Black, Asian, and other ethnically diverse households experience much higher rates of homelessness. The research, which has just started, will dig deep, looking at the people and communities facing homelessness and housing difficulties. Watch this space for an update in the next issue.
Mary's story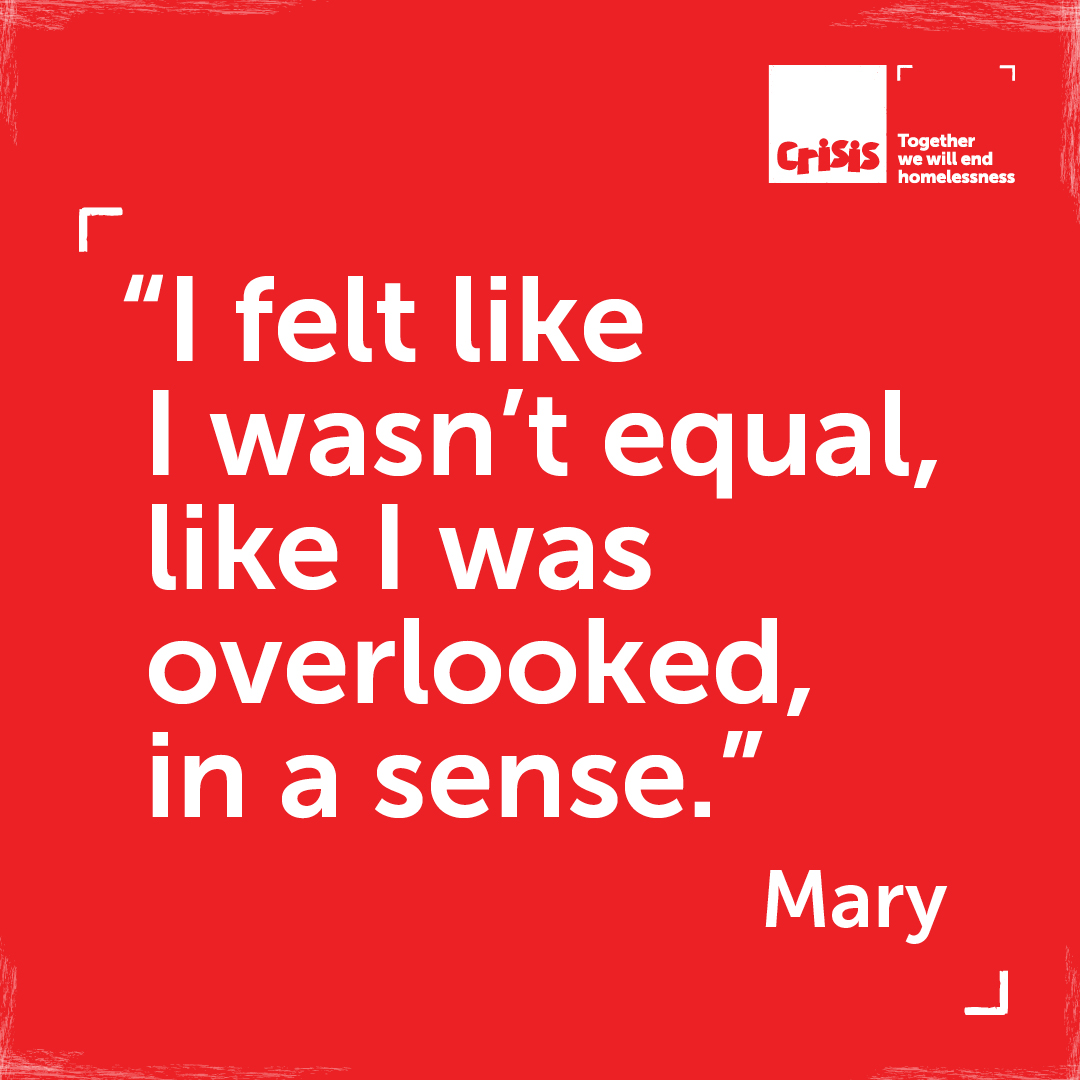 Mary slept rough for a year and a half, spending night after night under an external staircase with only her clothes as a bed and a bag for a pillow, or on the N15 night bus from Trafalgar Square to Romford. In order to protect herself, she shut down mentally:
"I think I blanked it out," says Mary. "My mind was just blank. I didn't know what I was doing. It was like I was in a trance because... I would have had a mental breakdown on that particular day. It was just too difficult."  
Being forced into homelessness is a distressing and alienating experience for all, none more so than for people like Mary who have come to the UK from abroad seeking protection, only to find every door closed to them. 
When Mary was forced into homelessness, she was a long way from where she had grown up in the Caribbean. Having spent her youth in the former British colonies of Trinidad and Tobago and St Vincent and the Grenadines, she then fled to the UK from domestic violence in 2007.  
Mary can trace her ancestry back to Britain via Scotland and Ireland, but despite this connection and the closely linked history of the UK and the Caribbean, she found herself with no right to remain in the UK.
Mary is one of the countless victims of the UK's Hostile Environment policy, which left her with no options or state support when she was at her most vulnerable. Designed, reportedly, to dissuade illegal immigration, this policy has a devastating impact on those it affects, which is mainly black and brown immigrants. It was the Hostile Environment policy which led to the news-making Windrush Scandal several years ago, but the damage it causes often goes unnoticed by those unaffected by it.   
With no right to housing, benefits or work, Mary and those like her are forced to live off the grid or on cash-in-hand jobs, leaving them wide open to exploitation and constantly on the precipice of being pushed into homelessness. This is exactly what happened to Mary.
Having no choice but to quit an exploitative job and with no other options, Mary found herself on the street. She felt more than let down by the country she had fled to for safety, and with which she has such a long history:
"They make you know that you're Black," says Mary. "They make you know that you are not equal. So they kind of discriminate against you in a very subtle way. I felt like I wasn't equal, like I was overlooked, in a sense. I was called an immigrant, I was [told] that I didn't have the right to be here."
"The law in this country is completely messed up," she says. "They don't acknowledge immigrants. They aren't aware of what they have done for this country, what our forefathers have done. You took people from a different place and worked them until they died. Do you not have a little remorse?"  
Mary has been processing this justifiable anger through her poetry, an activity she's been exploring through a course with Crisis. Although she is now in temporary accommodation thanks to support from Crisis and St Mungos, her struggles are sadly far from over. She's still fighting for legal immigration status, and the security she deserves.
Among all the darkness, Mary's Crisis poetry classes give her hope:
"Poetry is literally a lifesaver," she says. "I try to keep a light out. Even though it's all dark. I try to have a positive outlook because it can save my life."
Your support has a huge impact on people like Mary, thank you so much.
This story reflects Mary's experience, but her name has been changed to protect her identity.