By volunteering at Crisis this Christmas, you're doing something amazing. Thanks to you, our guests can enjoy food, warmth and vital services, and take a vital first step out of homelessness.
Why not ask friends and family to sponsor you for volunteering, and make your efforts count even more into the new year?
Become a sponsored volunteer and the money you raise will help even more people to leave homelessness behind for good through Crisis' year-round housing, employment, education and wellbeing services.
Set up your fundraising page on Virgin Money Giving today.
Get sponsored. Help end homelessness.
For further information, please contact sav@crisis.org.uk
---
Fundraising tips and tools
Sponsorship form
Use this sponsor form to collect fundraising offline.
Social media
If you're using social media, why not use these graphics to spread the word about your fundraising.
Facebook
Click on the image to get the full size and then right click to download.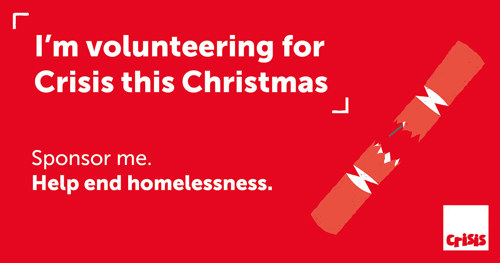 Instagram
Click on the image to get the full size and then right click to download.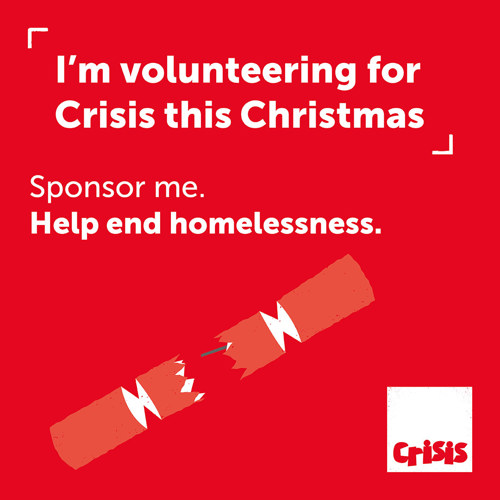 Twitter
Click on the image to get the full size and then right click to download.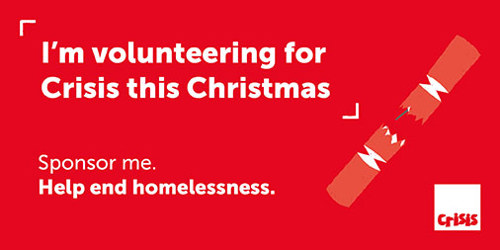 Key messages
The key messages below may be useful throughout your fundraising – why not update your online giving page, email a few to your friends and family or include in a Facebook status to encourage people to donate?
Short fundraising appeal: Share with your friends and family
"Today in Britain there are nearly 160,000 homeless households, and counting. If we don't act now, this number will only rise. But it doesn't have to be this way. Crisis believes no one should be facing homelessness in Britain today and we know more than ever before about the solutions. If we work together, we can end it.
Christmas can be a particularly difficult time of year for a person cut off from family and home. It can be an isolating, dangerous experience. One in four homeless people spends Christmas alone. Sleeping rough is incredibly dangerous, but in winter when temperatures drop things are even worse.
This year I will be volunteering at Crisis at Christmas, where 13 centres will open across the UK between 22 and 30 December offering vital companionship, hot meals, warmth and vital services including podiatry, health checks, eyesight checks and housing, education and employment advice
Last year many volunteers at Crisis at Christmas volunteers raised over £190,000 by asking friends and family to sponsor them for their volunteering.
Could you be one of those generous donors and sponsor me?"
How your money could help
In our 50th year, Crisis is pulling together everything that's needed to end homelessness for good.
But as long as we need to do it, we'll open our Christmas centres to provide food, warmth, vital services and the first steps out of homelessness for thousands of people who are in crisis now.
Crisis at Christmas is a unique volunteer effort that provides immediate help for homeless people at a critical time of year. This year guests will be welcomed at over 13 centres across Britain and offered food, clothing, health services and a chance to relax. But our work does not end there. We offer our guests individual advice and support and encourage them to go to our year-round service centres in the New Year.
Facts about homelessness
On average, homeless people die at just 47 years old.
People sleeping on the street are almost 17 times more likely to have been victims of violence.
More than one in three people sleeping rough have been deliberately hit or kicked or experienced some other form of violence whilst homeless.
Homeless people are over nine times more likely to take their own life than the general population.
More information about Crisis and homelessness can be found in our Homelessness knowledge hub.