Eight-year-old walks distance from Oxford to Italy to raise money to help end homelessness
06.09.2021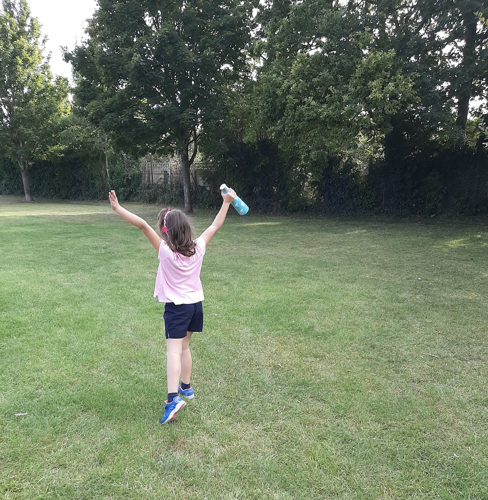 Silvia Ballabio, eight and from Oxford, has finished a walking challenge which has seen her cover 1250km – the distance from her home to her grandparents' house in Italy – in five months, all to raise money to help people experiencing homelessness.  
In March, Silvia decided to take on this mammoth challenge because she couldn't go and visit her grandparents in Italy, due to the pandemic, so thought she could pretend to walk there instead, and do something to support national homelessness charity Crisis in the process.  
Alongside her parents, Silvia has been walking an average of 5km a day since March to reach her goal, and even managed 17km in one walk in recent weeks.  
Silvia chose to support Crisis after noticing people living on the streets in her local area and has been asking for people to sponsor her to do the walk. As she completed the walk, she'd raised a whopping £500.  
Crisis provides services and support to thousands of people experiencing homelessness across Great Britain. With 11 Skylight centres from England, Scotland and Wales, including one in Oxford, Crisis works with people to help them rebuild their lives and help put them on a path out of homelessness for good.  
Silvia said: "I missed my grandparents so decided that I would try to walk the distance between my house and theirs. I wanted to raise money for Crisis because I wanted to help people who are homeless, especially because of coronavirus. I would like people who are homeless to have a safe place to stay. I'm excited to finish my challenge. I hope the money I raised for Crisis will help people who are homeless to sleep in a warm bed with food to eat. I'm happy I could support Crisis." 
Emma Darlington, Fundraising Manager for Crisis in Oxford, said: "We're incredibly proud of Silvia's walk, what an amazing achievement for someone so young. We're honoured that Silvia chose to support Crisis. The brilliant amount that she has raised will help us to continue our work to help people experiencing homelessness across the country leave homelessness behind for good, so please do support her if you can!" 
Visit Silvia's JustGiving page to donate: https://www.justgiving.com/fundraising/silvia-bp?fbclid=IwAR1J_eIjE5E6Bn40OQveHqnQCgS-CecRFen99T42DGoJTxy6DyVwX8Rn_2A