#BeLikeStAndrew for Crisis at Christmas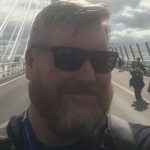 30.11.2017
875
XX
Today is St Andrew's Day – most Scots know about it, some of us celebrate it and a few of us even get a day off for it– but what exactly is it and what actually is the point of marking it in our calendar?
Every 30 November, our nation's patron saint day comes round – I'd say it is a good excuse to have a wee burl round the dancefloor, listen to The Proclaimers and a chance to roll-out the Sean Connery impressions.
It is maybe also a chance to (in our usual self-deprecating-slight-chip-on shoulder way) to be a bit proud about being Scottish or the country that many of us from further afield now call home. But what if it could be the chance for something more, something different and good?
Whether you're religious or not it sounds like the man who was known as St Andrew was a pretty great guy. He is reputed to have been a Galilean fisherman and one of Jesus's 12 apostles. He was also reputed to have been strong, sociable and fair and someone who encouraged people to share what they had with those in need.
In the interest of full disclosure, this year, as part of my day job I have been involved in promoting a Scottish Government campaign which asks people to #BeLikeStAndrew. We've been able to get a number of charities to embrace the campaign and they've been asking their supporters to do one act of kindness so that they too can mark St Andrew's Day and #BeLikeStAndrew.
It was great when the people at Crisis Scotland told me that they could indeed get involved. This St Andrew's Day they are asking people to #BeLikeStAndrew and to volunteer for Crisis at Christmas. Last year the Edinburgh centre hosted around 310 guests and this year will be open for five days from Christmas Day to the 28th December and on New Year's Day.  While the general volunteer posts are gone, if you're a podiatrist, a hairdresser, an entertainer or a musician I know that they'd love to hear from you. Crisis at Christmas can be the starting point for someone accessing Crisis' services and beginning their journey out of homelessness and the support of those who choose to give up their valuable time is so important in making that happen for more people every year.
The qualities that St Andrew was said to hold as a human being reminds me of so many people that I have met while volunteering for Crisis at Christmas.
Christmas 2017 will be my fourth year volunteering in Edinburgh and my fifth year overall my first year having been spent volunteering at a Crisis for Christmas centre in East London.
Throughout that time I have met in equal measure – both volunteers and guests – the strongest of people that everyday have to deal with the hardships of simply getting through life but in a lot of cases have had more hard luck thrown at them than any of us deserve.
I've had some of the most fun times with the most sociable of people – with the best stories of previous lives, loves found and lost, and good times and hard times - which have come about because a simple twist of fate or a misstep in life that frankly any of us could easily have taken.
Crisis at Christmas exists is to make sure that everyone who comes along can have the kind of Christmas that they wish to enjoy and that in my view that they deserve.
So, whether you're already booked up to join us this Christmas or not, why not #BeLikeStAndrew on 30 November and encourage those around you to share with those in need. You're just a click away from purchasing something from Crisis Scotland's shopping list or getting your shift sponsored by friends and loved ones. Whatever you do, give yourself a little pat on the back, your halo a bit of shine and have a very happy and peaceful St Andrew's Day, Christmas and New Year.
For more information on how to Be Like St Andrew visit https://www.scotland.org/events/st-andrews-day/be-like-st-andrew
For media enquiries:
E: media@crisis.org.uk
T: 020 7426 3880
For general enquiries:
E: enquiries@crisis.org.uk
T: 0300 636 1967