Cover the Cost: how gaps in Local Housing Allowance rates and rent levels are impacting on homelessness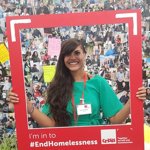 09.05.2019
Today Crisis is launching our Cover the Cost campaign to ensure that Universal Credit prevents and ends homelessness by covering the cost of rent.
Everyone deserves a stable home they can afford. For many of us, stable housing is something we do not have to worry about often, if at all. Our homes give us a foundation where we can feel safe and build our lives.
But for too many people finding and keeping a home is difficult and, in many cases, impossible. Losing a private tenancy is one of the most common causes of homelessness today. One major reason behind this is Universal Credit not covering the cost of rent for people who need that help.
Local Housing Allowance, which forms part of a household's Universal Credit payment, was originally intended to do just that. It was created to help people pay their rent in the private rented sector when they are struggling. So, for example, if someone unexpectedly loses their job, becomes ill, is stuck in a low-paid job, or has to take up caring responsibilities.
However, a series of cuts to Local Housing Allowance rates since 2011, which have included a four-year freeze to rates since 2016, have meant they no longer cover the cost of rents. As a result, financial support from Universal Credit is falling far short of helping people that need it to pay their rent. This puts more and more people at risk of falling into arrears and, in the worst cases, homelessness.
Our research with the Chartered Institute of Housing shows that the cuts mean that in 92 per cent of areas in Great Britain, just one fifth or less of the private rented sector is affordable within Local Housing Allowance rates for either single people, couples, or small families. This means people are facing impossible choices between paying the rent or paying for food and bills – choices no one should ever have to make. When the pressure becomes too much, people lose their homes.
How can we change this?
Solving this crisis in the long term means building more social homes. But until supply meets demand, people on low incomes can't continue to bear the brunt. A properly funded welfare safety net should give people help when they need it to keep their homes and prevent them from becoming homeless.
That's why today Crisis is launching our campaign, Cover the Cost, to call on the Government to reinvest into Local Housing Allowance rates in the upcoming Spending Review.
The Spending Review is an important opportunity for the Chancellor to announce new public services and investment plans for the following years. It is the best chance to secure reinvestment in Local Housing Allowance rates to ensure that Universal Credit covers the cost of renting and prevents homelessness.
Currently councils are having to spend thousands keeping people in expensive temporary accommodation because it can be impossible to find somewhere that is affordable to rent on Universal Credit. In England, reinvestment will therefore have a significant impact on their ability to meet their new duties under the Homelessness Reduction Act. This is, of course, also key for Government to achieve its commitments to reduce homelessness and end rough sleeping by 2027.
Having a home gives people the foundation to get a stable job and move on from difficult times. And when everyone has a safety net to fall back on, the whole of our society is stronger.
What can you do to help?
We need to demonstrate public support to our politicians that this should be a top priority in the upcoming Spending Review. You can add your voice by signing up to support our #CoverTheCost campaign to secure people's homes and prevent many more from becoming homeless.
You can also get involved by sharing the campaign video on social media and ask your friends and family to join too.
This is just the start, so look out for future campaign updates where you can get involved and help us secure a commitment to help end homelessness this coming autumn.
For media enquiries:
E: media@crisis.org.uk
T: 020 7426 3880
For general enquiries:
E: enquiries@crisis.org.uk
T: 0300 636 1967