Toolkit helps take another step towards ending homelessness for good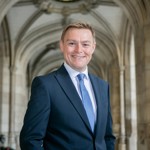 06.04.2021
The pandemic has shown the importance of the welfare state – providing help to millions of people when they needed it most.
For those who were experiencing homelessness back in March of 2020, the challenges were particularly stark. Yet the Government acted swiftly, providing emergency funding so that councils could help people to self-isolate.
Allied to that, more than £700 million has been spent in the last year protecting the most vulnerable in society.
As recently as 18 March 2021 it was announced that people sleeping rough will be supported with a further £212 million government investment in homes. This funding is the next stage of the largest-ever investment in longer-term accommodation, with 6,000 homes pledged by the end of this Parliament as part of the government's mission to end rough sleeping once and for all.
As a Department for Work and Pensions Minister, I know that Work Coaches in the Jobcentre play a vital role in making appropriate, timely interventions to prevent homelessness occurring, and supporting those who are already homeless.
Working collaboratively with Crisis and Shelter the DWP has launched a Homeless and Housing Toolkit for DWP staff to make sure that advice, support and help for those with a housing need is readily available when visiting the Jobcentre.
The Toolkit builds the capability of Work Coaches to deliver the right support at the right time.
The Toolkit features:
practical support for those with a housing need;
information about help available through support organisations;
thought-provoking blogs and podcasts from practitioners;
the latest news in housing;
videos from those who have experienced homelessness; and
safeguarding resources to support our most vulnerable customers.
It also includes an interactive 'Ask the Expert' feature for Work Coaches to seek assistance with their most complex cases, where the combined expertise within DWP, Crisis and Shelter will provide a response that lets the Work Coach provide the optimum support to a customer.
We know that homelessness isn't inevitable and that a Work Coach asking the right questions can lead to someone getting the right support early enough to prevent them from losing their home.
This toolkit is an example of the tailored support available at the Jobcentre through Universal Credit, and another important step towards making sure the welfare system plays its part in ending homelessness for good.
For media enquiries:
E: media@crisis.org.uk
T: 020 7426 3880
For general enquiries:
E: enquiries@crisis.org.uk
T: 0300 636 1967