To end homelessness we need to build more social housing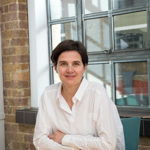 07.06.2019
Last year Crisis published Everybody In, a ground-breaking piece of work which sets out a long-term strategy for UK Governments to end homelessness. Central to this plan is the urgent need for us to build dramatically more social housing.
For people on low incomes, social housing can be a life line as it's the only type of affordable housing where rents are set at levels they can afford. But currently the number of social homes available is in steep decline. Last year in England less than 7,000 new homes of this type were built, while 16,000 homes were lost through right to buy. In the same year nearly 10,000 social homes were converted to higher cost "affordable rents" that are simply unaffordable for many people on the lowest incomes.
This loss of social housing is stark when 71% of councils say homelessness is still rising in their areas, and 153,000 households experience the most extreme forms of homelessness on any one night. Growing numbers of people are being placed by councils into unsuitable, temporary accommodation, while many more have no choice but to accept unaffordable, and often poor-quality rentals in the private sector. As our recent report Cover the Cost shows, this leaves people facing impossible choices between paying the rent or paying for food and bills.
We cannot carry on like this. There is plenty of evidence showing that investing in social housing is a cost-effective way to meet the needs of low income households. While the Government's recent commitments to start building social housing once again are welcome, they do not come close to meeting the scale of what the country needs.
So, it was great this week to see Shelter devoting the first of their new series of Shelter Live talks to addressing how they are planning to build a movement for change. 
The Shelter Live talk provided a platform to outline the recommendations of Shelter's independent, cross party, social housing commission, formed in the wake of the Grenfell Tower fire, and to outline the campaigning work for what they have termed a generational shift in social housing supply.
Shelter's campaign adds to the voices that have been calling for a return to a major social house-building programme, most notably the SHOUT campaign launched in 2014.
At Shelter Live we heard about the important role council and housing association homes play in providing people with the stability they need to get on with their lives – this is particularly important for people moving on from the trauma of homelessness. Speakers also outlined the steps we can take to overcome the stigma that is often wrongly associated with social housing estates, and recognise the potential of well-designed, newly built social housing to contribute to successful, vibrant communities.
It's clear that now is the time to build public and political support for a major programme of social housing investment. Our research shows that we need to build 90,000 social homes each year for the next 15 years. People are living on a knife-edge - they can't afford to wait any longer.
For media enquiries:
E: media@crisis.org.uk
T: 020 7426 3880
For general enquiries:
E: enquiries@crisis.org.uk
T: 0300 636 1967