From enforcement to ending homelessness: guides
05.07.2021
In our society it's simply not right that anyone should be forced to sleep rough. Both the English and Welsh governments have clear aims around addressing this issue in their rough sleeping strategies, and we know that the police, local councils and the voluntary sector will play a key role in helping to achieve these aims.
As such, the following two guides have been co-produced by Crisis and the National Police Chiefs' Council to support police forces, local authorities and other frontline practitioners working together to address street homelessness through appropriate and proportionate alternatives to enforcement.
Both of the guides reflect on proven approaches, and offer guidance to police forces and local authorities that demonstrate how increased partnership working with public services and the voluntary sector can help people move away from sleeping rough.
In addition to the guides above Matt Downie, Director of Policy and External Affairs at Crisis and Andy Prophet, Assistant Chief Constable NPCC Lead for ASB and Homelessness reflect on role of enforcement measures in tacking homelessness and cross sector collaboration in our latest blog.
Downloads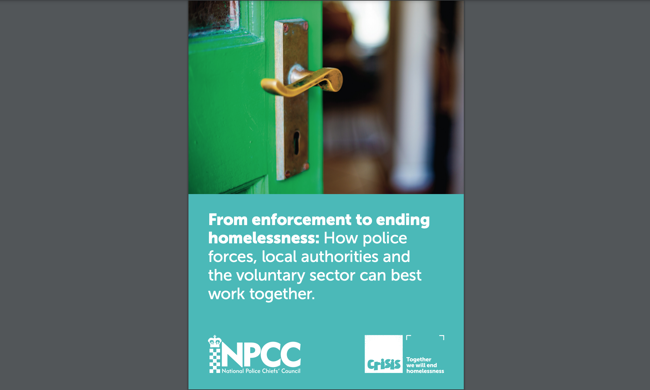 From enforcement to ending homelessness: How police forces, local authorities and the voluntary sector can best work together - Short guide
---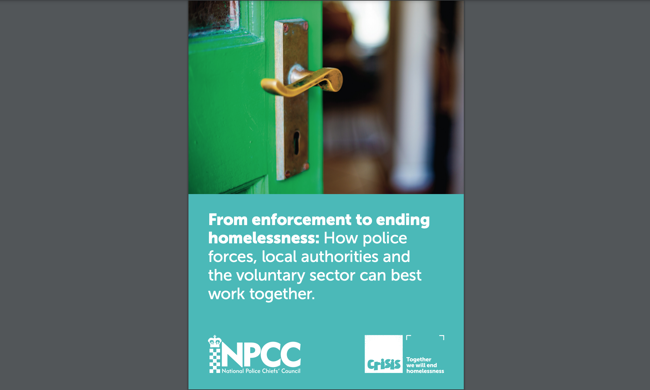 From enforcement to ending homelessness: How police forces, local authorities and the voluntary sector can best work together - Full guide
---