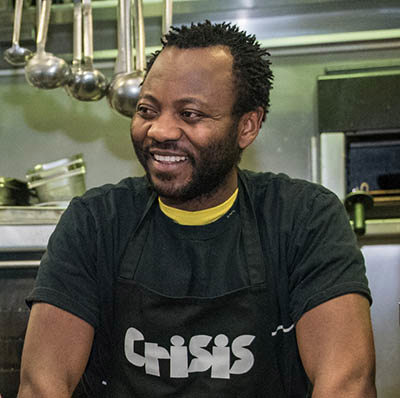 "I made cassava with cabbage, carrot, sweet pepper and pumpkin and they put it on the menu. It was an amazing time in my life because I couldn't imagine where I would cook something and the customer would eat and say 'wow!'. And they like it and enjoy it. I was very happy."
Achille, Crisis trainee
Café from Crisis works to end homelessness through practical hospitality training whilst serving fresh and socially conscious food and coffee in our bustling cafés. Through technical training such as kitchen craft and barista skills, members can gain qualifications and confidence in a public facing environment where they are supported on their journey out of homelessness.
How does it work?
We offer opportunities to train either in the kitchen, or 'front of house' for four, eight or 12 weeks.
Training kicks off with a 'Behind the Scenes Day', an accredited one-day course which runs monthly at our cafe in London.
What trainees gain
Core hospitality skills including; Barista, till training and customer service

OR Skills around food preparation, kitchen porter duties and kitchen craft

Experience working in a busy café with an experienced team

Options for external work experience placements

Accredited training in Food Hygiene, COSHH and First Aid

Improved confidence and communication

Good habits of working: timekeeping, attendance, professional relationships

References for future employers

Travel expenses reimbursed and a delicious lunch on each shift
We expect trainees to…
B

e motivated and open to learning new skills

Be enthusiastic, keen to gain insight into their area of training and preferably be thinking about moving towards employment or an alternative positive progression

Disclose previous convictions to their coach and feel comfortable to have this conversation with potential employers (or be working towards this)

Be in control of any substance misuse

Dress professionally with good personal hygiene
Eligibility criteria:

Applicants must first become a Crisis Member. If you are homeless, or are at immediate risk of becoming homeless, you can access our services for free. See each Skylight's homepage for information about how to become a Crisis member: London, Oxford.

Our training programmes are designed to incorporate the 1:1 support of coaching with training, therefore members wanting to take part in the programme must be working with a Skylight coach.

Able to commit to two full days of physical on-your-feet training each week, for a minimum of four weeks. The days worked are negotiable but the amount of days and hours are not.

Trainees need to have spoken English to a level that is safe to operate within our cafes or shops, and written English to be able to complete a workbook. We consider this to be moving towards Level 1 or higher.

Be age 18 years or over.
Please note the criteria are a guideline; the Skylight coach can decide over a series of meetings with the member if the programme will be suitable and meaningful.

If you'd like to get in touch, please contact enterprise@crisis.org.uk.