Logistics company CitySprint have been a loyal support of Crisis for over a decade, ensuring the smooth running of our services at Christmas and all year round.
Crisis benefits from the partnership through gift-in kind vehicle loans of vans which support the charity daily running's for example by supporting our Shops from Crisis retail team with collecting and distributing donations from our warehouse to our network of 12 Shops across London. The London Retail van alone moves on average 1.3 tons of clothes per day and up to 6+ tons a week.
Shops from Crisis is not only an important income stream for Crisis as all items sold online and instore will directly support Crisis services, but they are also important for building our brand and connecting with communities in London. In addition, they offer great volunteering opportunities to members of the public and offer Crisis members a safe and friendly environment to gain experience in the retail sector.
With the use of our all year-round CitySprint Van's, Crisis can help people who have moved out of homelessness and into accommodation to furnish their new homes with fridges, sofas and Tv's delivered directly to them in our CitySprint vans.
They also supported Crisis to provide 150 newly housed people with Ikea home starter packs this year which included items such as kitchen utensils, towels, duvets, pillows, plates to help people settle in their new homes.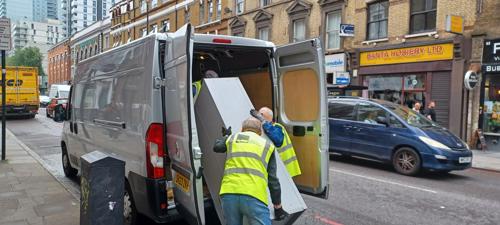 Apart from supporting Crisis all year round, they are also a vital and valuable partner during the festive season, because every Christmas CitySprint provides Crisis with extra vans to help Crisis run their annual 'Crisis at Christmas' activities in London and at our regional Skylights.
Ian Richards, Head of Crisis at Christmas: 'Thanks to CitySprint's donation of vans, the Christmas team are able to support those moving into their news homes, and collect offers of donated goods all year round. We get some vital items offered as donations throughout the year, but donors are most often unable to deliver. We'd miss out on these if we couldn't respond to collect, which we're able to do thanks to our CitySprint vans'.
Crisis relies on donations from the public to give Christmas guests and members a Christmas to remember, therefore the extra vehicles are important in collecting donations such as dry foods, clothing items and toiletries which we can give to guests arriving at our centres and hotels.
In addition, CitySprint deliver vital medicines and opticians' equipment to provide guests with eye care and doctors check-ups at our Day Centres; fresh food and vegetables to ensure guests can enjoy healthy and nutritious meals and all our IT equipment in order to transform schools and community centres into Day Centres for our guests to have access to unlimited Wi-Fi, an IT Cafe, Entertainments and Cinema room to fully enjoy Christmas and stay in touch with family and loved ones.
Thank you to CitySprint for your continuous support of Crisis.