What is GoodPaye?
GoodPAYE is a Payroll Giving Platform that empowers people to change the world while they work, and prides itself on being the simplest, most efficient and most impactful way for employees of any business to donate to their chosen charities straight from their salary, tax-free and hassle-free.
Being 100% charity-owned and cofounded by Crisis, GoodPAYE understand the desire for change and the difference we can all make when giving works and have developed new technology using digital-led strategies to take the hard work out of workplace giving.
Liz Choonara (Interim Director of Enterprise and Innovation at Crisis) explains how Venture Studio came to collaborate:
"The business spun-out of Good Innovation, the Social Impact Innovation consultancy. What makes GoodPAYE unique is that it is a joint venture between Barnardo's, Crisis, The Royal British Legion, RNIB and WaterAid. Their aim is to increase the accessibility and uptake of payroll giving. Through their tech-enabled approach they aim to double the number of payroll givers by 2030 and to raise an additional £150m for charities across the UK."
What is payroll giving?
Payroll Giving is a long-standing government scheme that allows employees to make charitable donations directly from their salary (gross pay/pension) before it is taxed. GoodPAYE has shaken up the way Payroll Giving traditionally works, making it far easier to use for employers, employees and
their chosen charities.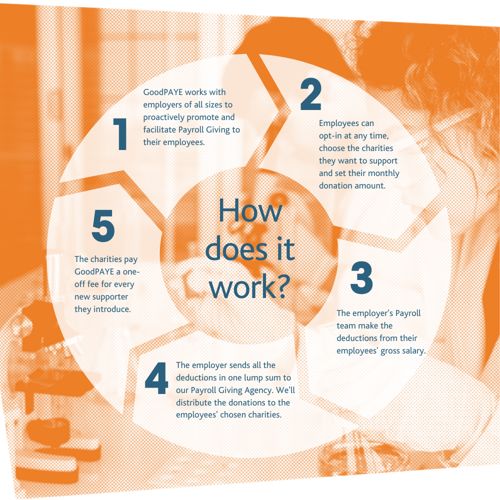 What are the benefits to using GoodPAYE?
·       Easy to use: Easy to set up and manage, integrates with all payroll systems, and is completely free to use.
·       Secure & GDPR compliant: The highest levels of security and encryption keeps data 100% safe and fully compliant.
·       Proactive marketing support: GoodPAYE will promote Payroll Giving to your team with digital and off-line materials, free of charge.
·       Employee engagement: Instil pride and increase productivity within your workforce.
·       Enhanced CSR performance: Boost your charitable giving further with flexible Donation Matching options
·       Quality Mark Awards recognition: Gain a government-recognised Quality Mark Award for Payroll Giving.
Liz continues on hopes for the future:
"The Venture Studio from Crisis is on a mission to invest in, build and scale ventures that accelerate the end of homelessness. Alongside Crisis policy and research, direct service delivery and place-based work, the Venture Studio and its community of entrepreneurs is a powerful force to achieve that mission.
GoodPAYE makes it easy for companies to offer payroll giving to their employees. Through their innovative platform, employees can donate to their chosen charities in a tax efficient way whilst getting insights into the impact of their donations. We are excited about the opportunity this holds for Crisis and the sector overall to diversify income and to engage with supporters in a new way."
For more information on how your organisation can use GoodPAYE to support Crisis and other charities, contact CorporatePartnerships@Crisis.org.uk and join GoodPAYE in their mission to generate over £150m of additional revenue for charities via Payroll Giving by 2030.