Make your payday even more rewarding through a payroll donation to Crisis. It's a great way to give as you earn, with your donations deducted before your tax!
Give as you earn: How it works
Not only is it a really simple way to support our aim to end homelessness, it's also the most tax effective. Donations are deducted from your gross pay before tax. 
What this really means
If you donate £10 to Crisis through payroll giving, it will only cost you £8 , as it's taken from your pay before tax. If you're on a higher tax rate, it will only cost you £6, but Crisis receive £10.
| | | | | |
| --- | --- | --- | --- | --- |
| You donate |   | £5.00 | £7.50 | £10.00 |
| Cost to you as a 20% tax payer |   | £4.00 | £6.00 | £8.00 |
| Cost to you as a 40% tax payer |   | £3.00 | £4.50 | £6.00 |
Giving as you earn is a great way to support, costing you less and making your donation go even further. 
Please check with your employer that there is a payroll giving scheme set up at your work place before signing up.
Sign up to payroll giving today
What happens next?
Once you fill out our online form, we will pass your information onto the relevant Payroll Giving Agency who will do all of the necessary administration work with your employer to set up your regular gift. This can take a bit of time, so don't worry if your donation doesn't come out of your next pay. 
As soon as you've started to give we'll update you twice a year on how your donation has played a part in working to end homelessness. You can decide whether you'd prefer to receive those updates by post or email. 
How your support helps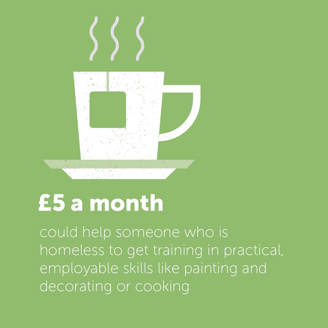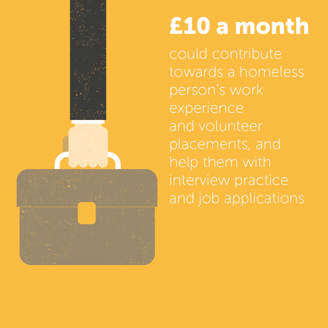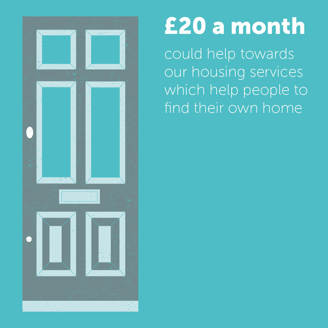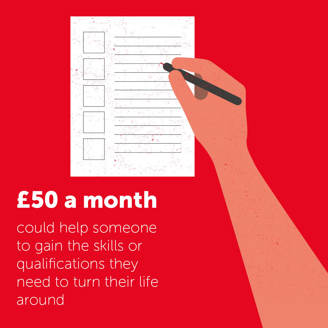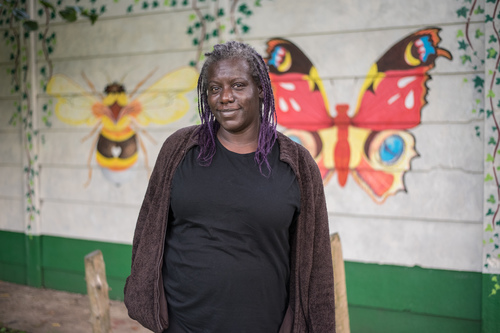 "There are so many different things to support you, it's brilliant. Crisis delivers the whole package."
Ann, Crisis member
Get in touch
If you want to check how Payroll Giving would work for you personally, email Alex on payrollgiving@crisis.org.uk or call 08000 384838.
If you have any other questions about Payroll Giving in general, you can visit the HMRC website for more information.