"ARTIE" CHRISTMAS AUCTION AND LIVE JAZZ AT OXFORD'S CAFÉ 38
29.11.2019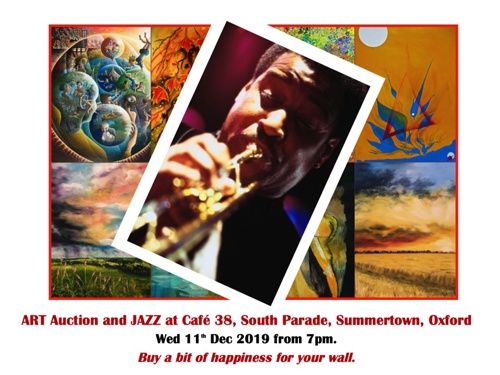 Come and jazz it up with the LiterArties, whilst bidding for unusual and unique Christmas presents this year!
LiterArties, an Oxfordshire group of writer-artists, are putting some of their work up for auction – with no reserves – on Wednesday 11th December, from 7pm onward, at Café 38, 38 The Parade, Summertown, Oxford, with a generous 50% of the proceeds going to Crisis!
Add some jazz to this from the Scott Rice Quintet, and the atmosphere is set for a racy and exciting evening with bids and blues flying. And if you can't make it there on the evening, don't despair… just pop into Café 38 beforehand and put your paper bid in the bidding box.
Everyone could be a winner!
More information available by contacting info@debrahmartin.co.uk or via the LiterArties website.