Celebs for Small Biz - Charity Auction 14-15 Nov
10.11.2020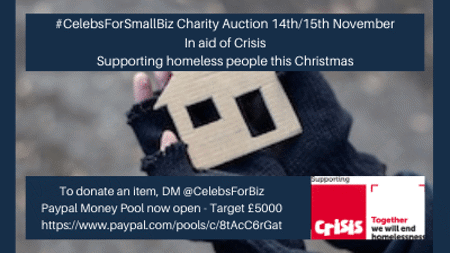 Our wonderful supporters Alison @CauldronCandles, Nichola @NaturaEmporium, Elizabeth
@HedgeBuddies and Maisie @LScrunchieCo have joined forces to create the #CelebsForSmallBiz Charity Auction in aid of Crisis!
The #CelebsForSmallBiz auction launches this weekend.
We have had some wonderful celebs donate all sorts of items and gifts ahead of the auction, including Dr Who and Outlander's Annette Badland!
Bidding will open at 12.01am on Saturday night/morning and will remain open till 11.59pm on Sunday night. Between the Celebrities and the small businesses, the #CelebsForSmallBiz team have acquired over 70 items to be auctioned (so far!).
Our amazing supporters have a £5,000 target, which they wish to raise in support of Crisis this Christmas
Thank you #CelebsForSmallBiz and best of luck this weekend!