DecemBrrr - 31 cold runs in support of Crisis
18.12.2020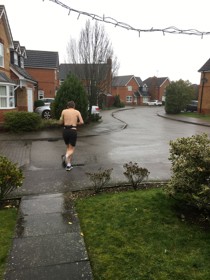 Inspired by Crisis's IceBreaker fundraising challenge, every day in December supporter Simon is taking on a 5k run in the cold, in just trainers and shorts! 
In Simon's words: "I hope to raise money and awareness for those in the UK who don't have a warm home to return to (around 4,500 people are sleeping rough) or are facing homelessness (around 280,000 are homeless - that's bigger than Derby's population). 2020 has been hard for so many people, but if you can afford to spare anything and sponsor me I would really, really appreciate it."
So far he's raised an astonishing £1,263 and has smashed through his original fundraising target of £400.
You can see more updates and support him through his JustGiving page.
Thank you so much Simon!