Foodies Festival - Virtual Festival
15.06.2020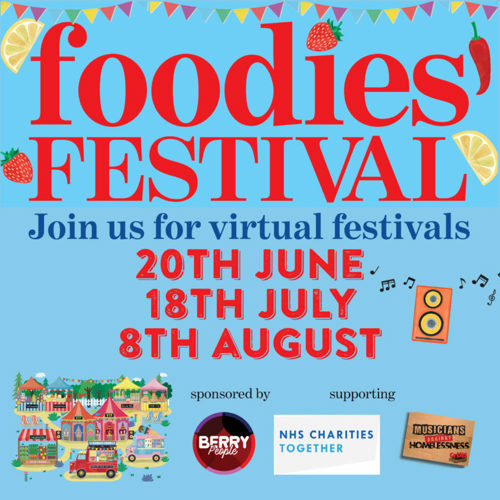 The Foodies Festival is back for the Summer on Facebook Live! 
On Saturday 20th June, Saturday 18th July and Saturday 8th August, Foodies Festival will be raising money for NHS Charities Together and Musicians Against Homelessness.
Join this wonderful event, for a fun day of MasterChef winners and top chefs cooking new Summer recipes; sweet treats with Bake Off winners and top bakers; wine, champagne and beer tasting sessions, cocktail making; Cooking with Kids and performances from much – loved music headliners and a few really fun surprises!
Foodies Festival is delighted that Berry People is sponsoring The Berry People Theatre as host Charlotte White shows you how to cook delicious treats using Great British Berries.
The Facebook Live Foodies Festival is free to join and you can join our event by joining us on Facebook here.
You can donate to support the cause over on Just Giving.
Don't miss out!