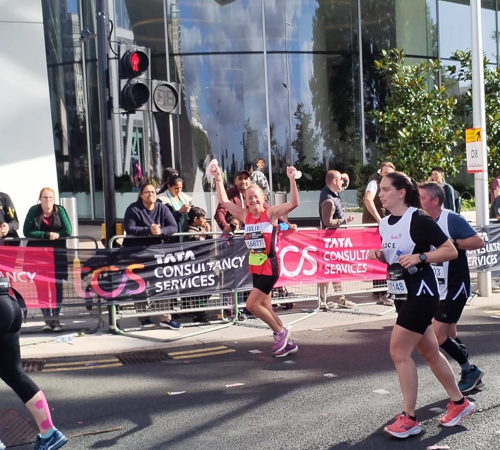 "I am not a natural runner, but on marathon day, I was so proud to wear my Crisis running top. When I saw the Crisis team cheering madly, I felt euphoric and really spurred on. It's one of the best experiences I have ever had. I jumped and danced my way towards them feeling so privileged, overcome and emotional to be part of such a great team - words cannot describe it."
"I am a 61 year old primary school teacher and, if I am honest, I would normally look for a million reasons not to run. But I am grateful for my life and the opportunities I have been given and wanted to give something back to help others get back on their feet too."
"In the early 1980s, I lived in a council flat in London. I had no job, no money, no furniture (I slept on a duvet on a concrete floor), no heating and no hope. I frequently went for days without food and the very worst was the feeling that no one cared. I have a comfortable life now and I wanted to show that people do care and that everyone is valued."
"Crisis is a charity close to my heart. It helps people to restore their self-esteem, giving them hope and practical help without judgement."
"Running for Crisis was a great experience. The team were friendly and hugely supportive. They were always enthusiastic and encouraging, and never hesitated to help if I felt stuck. I felt very lucky to have their backing."
"During training, it was not always easy to run on cold mornings in bleak countryside before going to work. I had been really unwell with Covid in July and had had to have a month off work so I didn't start training again until the second week of August. But, however much I wanted to give up, I was inspired by the courage and bravery of the people that Crisis supports and the thought that the money I was raising could help to support even more people. I couldn't be more proud and happy of what I've achieved."
"I would run for Crisis again anytime, and would encourage you to have a go too. The reward is beyond anything that money can buy!"
Julie ran the London Marathon to raise money for Crisis in 2022. If you feel inspired by her story, join one or several of our thrilling runs across the UK, and help end homelessness by reaching out to the team at fundraise@crisis.org.uk.