Lantivet Duo Livestream for Crisis
17.02.2021
Since April 2020, violin and piano ensemble, Lantivet Duo, have been live streaming their beautiful music from their living room. 
Weaving together classical, folk, jazz, world and funk, they have combined their own arrangements with existing music to create a unique musical experience. 
Since the start of the pandemic, Lantivet Duo have donated over £5,000 to UK charities, and Crisis are delighted to be the charity chosen for their next event on Friday 19th February at 7pm!
The concert will be available to watch on Lantivet Duo's website and on Facebook. It is free to watch, but they encourage donations.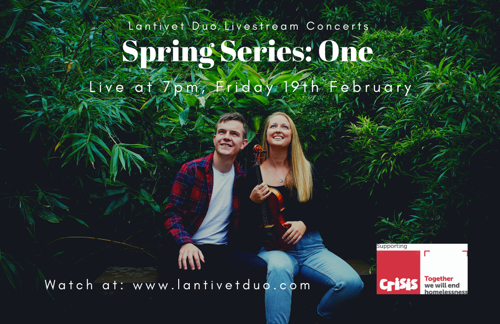 Anna says: 'Our Autumn series was recommended by Classic FM as one of the best live streams to listen to. This will be the first concert in our Spring Series, and the concert is designed to help combat the Lockdown 3.0 Blues with an uplifting feast of Colombian, Russian and American Old Time folk music, mixed up with Beethoven's joyful Champagne Sonata (to give everyone an excuse to crack open a bottle of bubbly). We might even add in our own take on the Wellerman if we are feeling nautical enough!'
Thank you Lantivet Duo for sharing your music with us, and for supporting Crisis to end homelessness!