Tangent Stays Awake for Crisis - 24hr Bakeathon
08.06.2021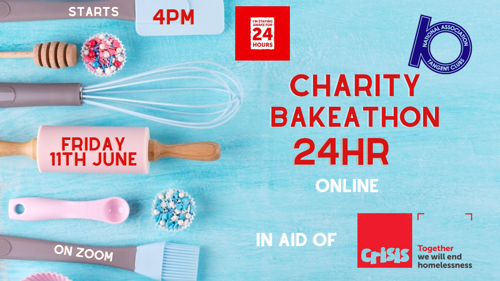 We are thrilled to announce Tangent Clubs' 24hr Bakeathon in support of Crisis! 
The Tangent Ladies Club will begin baking at 4pm on 11 June as part of our #CrisisStayAwake Challenge. Tangent Clubs have decided to support Crisis as their charity of the year, and have an exciting line up of fundraising events. Following the Stay Awake challenge, they will be hosting a (sold out) charity lunch on 17 July, and a ball on 29 January 2022. As well as raising crucial funds, the events will raise awareness of the issues that force women into homelessness.
"We are incredibly grateful for the support from Tracey Pickin and the National Association of Tangent Clubs. Their support will help us deliver the vital services needed to help people end their homelessness. By bringing people together across the country it also sends a message to anyone without a home that they are not forgotten.
Thank you to each and every one of the Tangent Club members for supporting Crisis. Your support will help us end homelessness once and for all." Richard Lee, Director of Fundraising.