When you play People's Postcode Lottery, you're supporting our work to end homelessness.
To date, players of People's Postcode Lottery have raised nearly £6 million to help end homelessness. See how this incredible support is helping to change lives across the country:
This incredible support helps to fund year-round work and services at our 11 Crisis Skylight centres across Britain. Here, we provide one-to-one coaching and advice with housing, education, employment and health to help people leave homelessness behind. Last year we supported more than 11,000 people on their journeys out of homelessness.
Watch Sharon's story to see how she worked with her Crisis coach Jeanne-Marie to rebuild her confidence, move into a home and secure employment:
During the coronavirus outbreak, PPL players have helped to fund Crisis' emergency grants scheme, which has offered financial support to smaller local organisations supporting people facing homelessness. Community Infosource was one of the recipients of a Crisis grant, and our Chief Executive, Jon Sparkes, spoke to Shafiq from the organisation to find out more about the impact of this support: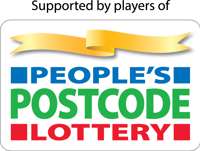 Our lottery
We operate our own society lottery licence, which is regulated by the Gambling Commission. The lottery is promoted and managed by People's Postcode Lottery. 
You can take part for a monthly subscription of £10. A minimum of 32% of funds raised supports our work such as our employment services in our centres. 
Thanks to players of People's Postcode Lottery, Crisis is able to continue amazing work to end homelessness for more people while campaigning to end it for good. 
What you can win
You can find out more about The People's Postcode Lottery and prizes here.
Important information
Crisis is regulated by the Gambling Commission under licences: 000-005009-R-329208-001 & 000-005009-N-303937-011. People's Postcode Lottery manages multiple society lotteries promoted by different charities supporting a range of good causes.
For details on each week's society lottery please see the Charity Draw Calendar.
Players must be 16 years or over. Only available to play with postcodes in England, Scotland and Wales. Not available in NI. Conditions apply. See Terms & Conditions. £10 for 10 draws paid monthly in advance, a minimum of 32% goes directly to charities. For a full list of prizes visit Prizes
For assistance call us on 0808 109 8765 or visit Contact Us. Trading address: 28 Charlotte Square, Edinburgh, EH2 4ET. © 2018 Postcode Lottery Ltd.
Maximum ticket prize is 10% of draw proceeds up to £400,000. Postcode Lottery Limited is incorporated in England and Wales and is licensed and regulated by the Gambling Commission (licence numbers 000-005009-R-329208-001 & 000-005009-N-303937-011). See licence status here. Registered office: Postcode Lottery Ltd, Titchfield House, 69/85 Tabernacle Street, London, EC2A 4RR. Company reg. no. 04862732. VAT reg. no 848 3165 07.
Solicitation statement
People's Postcode Lottery manages multiple society lotteries promoted by different charities. A list of the charities who fundraise with People's Postcode Lottery is available here. Of every £1 spent on lottery tickets, a minimum of 32p goes directly to these charities, 40p is used for prizes and 28p is paid to us to cover the expenses in running the lotteries. Based on 2018, in 2019 we expect to raise over £125 Million for charity and estimate the costs of marketing and running People's Postcode Lottery to be approximately £109 Million.
Useful links
If you feel you have a problem with gambling, and would like to request that Crisis excludes you from receiving gambling related marketing materials, you can simply complete our form. 
We hope that you won't want to make a complaint about Crisis, but if you do, please follow our complaints procedure.