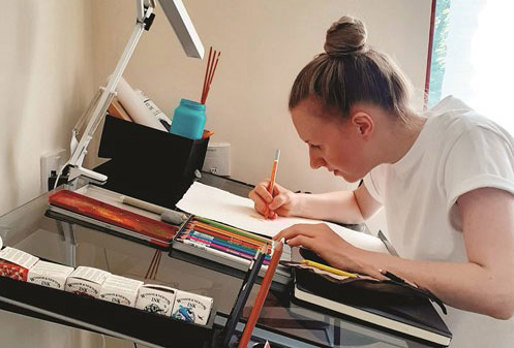 Laura studied Fine Art at university, but when her mum died, she used alcohol to escape her grief.
Homeless for months and unable to get support, she got into a very dark place. But thanks to a Changing Lives grant from Crisis, she's now a self-employed illustrator and full of hope.
"My mum was my best friend and I was devastated when she died. If you can't get help for mental health problems, you find other ways to escape what's going on inside you. I became addicted to alcohol and went to a really bad place.
I was homeless for months, staying on people's sofas, which made me feel incredibly anxious. With no support to help me, there was a lot of worry about what the next day would bring."
When Laura went into rehab, she finally received the counseling she needed to help with her anxiety, depression, and grief. She moved into a dry house for women and started doing Crisis courses.


"I picked up a pencil and drew a field and a fence, and doing that simple task was so powerful. It was such a big moment because I felt my brain come back! It was magical. Art helped me express myself.

Coming to Crisis was the best thing that could have happened. I've done courses on everything from mental health to finances, while also having art mentoring, I'm like a sponge with the experts' advice.
My coaches have been incredible, providing one-to-one support with everything from universal credit, to finding a flat just before the start of the pandemic.

My home is in a peaceful rural area, so I can create from here. It's safe, a base camp, which you really need when you've had a journey like mine.
My coaches also helped me secure a Crisis Changing Lives grant so I could get started as an illustrator. I did a pitch to a panel of experts, and got funding for a laptop, a mobile phone, a desk, art materials. I get vouchers in instalments so I can buy the materials I need as I go along.
I love capturing nature, buildings, people and animals and I've started selling originals and prints, creating gift cards and doing commissions too.
The Crisis coaches have been angels. They were so kind and supportive, right from my recovery to becoming self-employed. I've finished all my 121s with Crisis, which were superb. I'm getting my art out there, it's me versus the world now, eek!
I know Crisis will always be there for me. I've gone back to the old Laura that I used to be, the sporty one, the healthy one. It's a beautiful feeling and I've got so much hope for the future."
You can check out Laura's art on Instagram or her website. You can also purchase Laura's art through her Etsy page below.