Our Crisis Skylight centres support people out of homelessness for good
At Crisis we give direct support to people who are experiencing homelessness or at risk of becoming homeless. This happens all year round in our 11 Skylight centres across the UK, and through teams such as Housing First.  
We work in a strengths-based way to support people to end their homelessness for good. How we help depends on someone's needs and situation. We can offer support with education, training, housing, employment and health. We do this through coaching, 1:1 support, courses, and group spaces. This can be remote or face to face.
How do volunteers support this work?
By bringing their time, skills, experience and knowledge, volunteers add huge value to the services we provide for people experiencing homelessness.
Volunteers support people directly in a group setting or give 1:1 support both in the Skylights and in the community in a range of different ways, including:
-          Digital Inclusion Volunteers
-          Learning Mentor Volunteers
-          Admin and Reception Volunteers
-          Tenancy Support Volunteers
-          Welcome Volunteers
-          Employment Volunteers
-          Delivery Driver Volunteers
Please keep an eye on our volunteer homepage to see our current opportunities.
We strive to ensure that our services are welcoming, remain relevant and are fully accessible to everyone that we help and support. We are particularly welcoming of volunteers from diverse and other marginalised communities, as this helps us ensure the best experience for those that we are here to help.  People who have lived experience of homelessness are also particularly welcome to apply.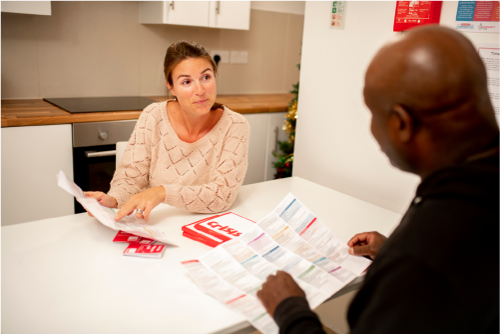 "Volunteering has given me insight into the significant impact Crisis has - I am passionate about contributing to this, and playing whatever role I can in helping to end homelessness."
Skylight Volunteer
Your experience as a Crisis Volunteer
We recognise the immense value that volunteers bring to helping end homelessness. We want all volunteers to have a rewarding, supportive and positive experience through:
-          Knowing that you're making a direct contribution to ending homelessness
-          Sharing or developing new skills in a friendly and supportive environment
-          Having a thorough induction and training for your role, both in-person and via our online learning hub
-          Access ongoing learning and development opportunities
-          Have a designated supervisor who you can go to for support
-          Gaining knowledge and experience of the homelessness and charity sector
-          Opportunities to collaborate and socialise with other volunteers and staff
"I really feel valued when I volunteer for Crisis, the staff are so supportive and appreciative.''
 Skylight Volunteer