Party conferences 2023 and homelessness – what you need to know
11.10.2023
We explain what the major political parties said on housing and homelessness during their party conferences and what it means for our Make History campaign.
We went into this year's party conference season with a clear challenge for all political parties: to make history and commit to a national mission to end homelessness.
So, as conferences wrap up for another year, are the Westminster parties showing enough ambition to end homelessness?
Where we're seeing progress
First, the positives. We met directly with several MPs at the Labour and Conservative party conferences who wanted to hear more about our Make History campaign and general election manifesto. While we couldn't attend the Liberal Democrat conference in person this year, we met with policy-makers beforehand to discuss their housing and homelessness policies.
Many MPs spoke to us having received emails from Crisis supporters, so thank you to all of you who emailed your MP over the past few weeks. This shows the power of taking action together.
Over the last couple of weeks, we've met engaged Conservative MPs and councillors, including Felicity Buchan, Minister for Housing and Rough Sleeping at our stand hosted jointly with our partners Lloyds Banking Group. We discussed the importance of settled, genuinely affordable homes to end all forms of homelessness.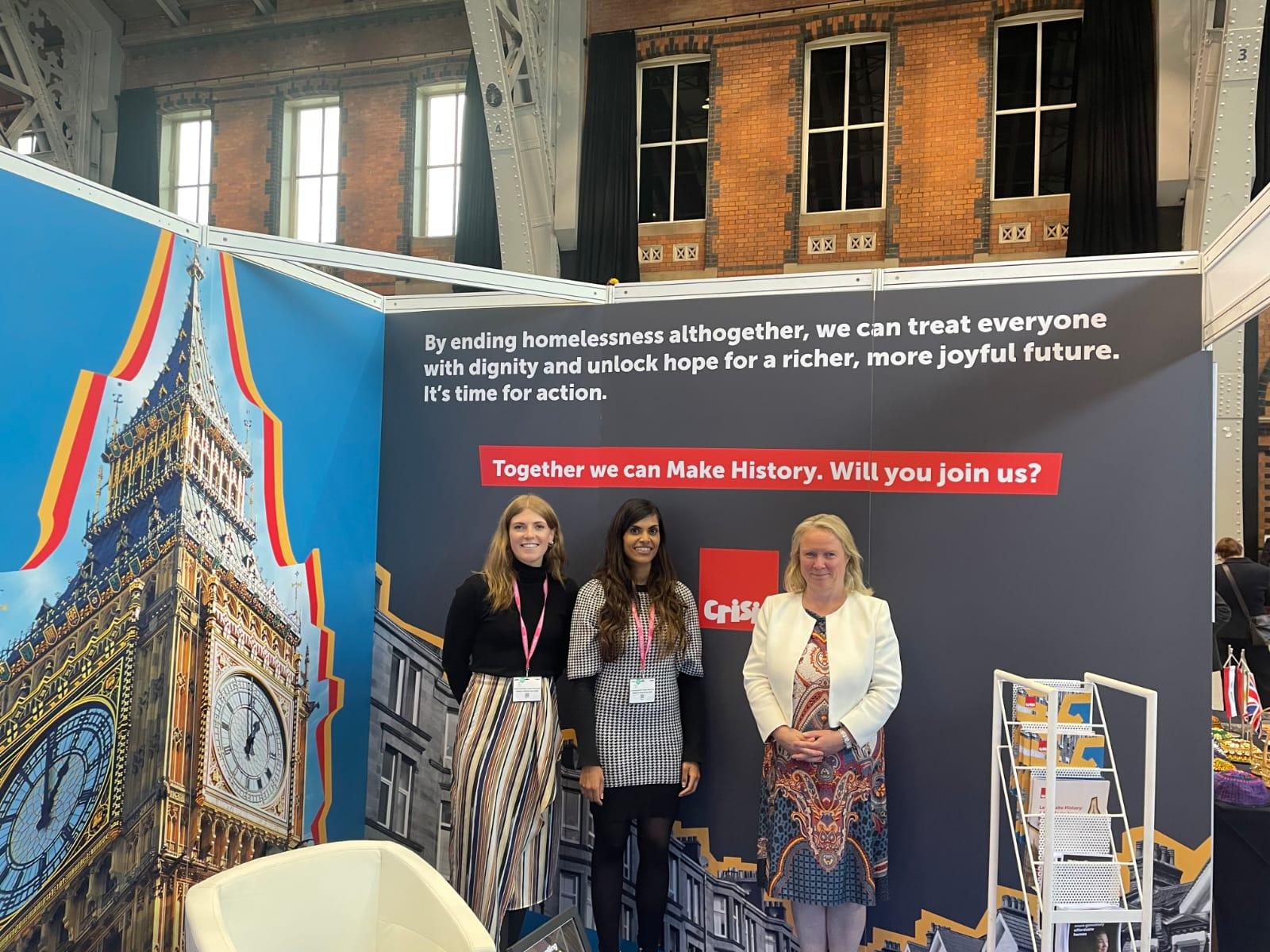 We were pleased to hear Secretary of State for Levelling Up, Housing and Communities, Michael Gove MP, reiterate the Westminster Government's desire to abolish section 21 evictions through the long-delayed Renters Reform Bill.
Section 21 evictions can have a devastating impact on people's lives and remain one of the leading causes of homelessness. It's vital that the Westminster government follows through with its commitment to pass this legislation.
The Liberal Democrats announced that they'll put "building a new generation of 150,000 social homes a year" in their party manifesto. That's a hugely ambitious target which certainly challenges the other parties.
In another positive step, Labour placed housing high on their conference agenda. At our event held in partnership with Lloyds Banking Group, Matthew Pennycook, Shadow Minister for Housing and Planning made clear his commitment to delivering more social housing and described the impact this would have on homelessness.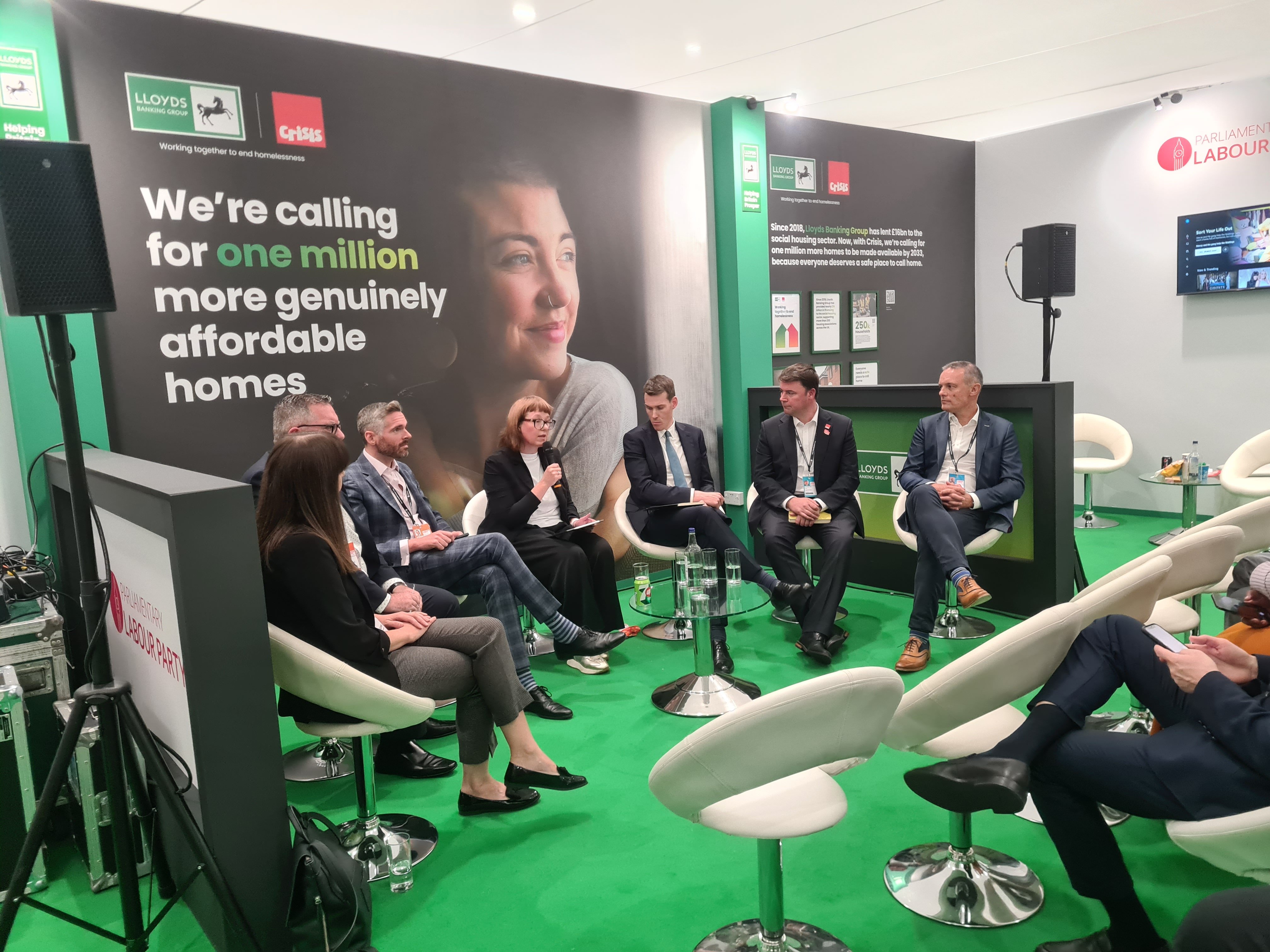 We were also delighted to have closing remarks made by Angela Rayner, Labour deputy leader, who said social housing is "personal" to her and that Labour are in listening mode.
Every day we see the crippling cost that years of no investment in housing benefit and a lack of social housing is having by trapping families in temporary accommodation instead of moving them into safe and settled homes. It's positive to see this recognition from politicians across different parties
Where we need politicians to go further
Political parties have made some progress, but we're yet to see one to commit to ending all forms of homelessness within 10 years in England, unlike commitments from the Scottish and Welsh Governments.
Though Gove's comments on tenants' rights provided a small amount of reassurance, we heard very little from the Conservatives on their homelessness policies.
At a time when the numbers of households in temporary accommodation are at record levels, rents are rising at the fastest rate for decades and building affordable housing has all but stalled, the Prime Minister did not mention housing or homelessness once during his hour-long speech.
These challenges are being felt across the country and are issues the Prime Minister cannot afford to ignore.
While we welcome the Labour Party's bold statements on building social housing, the party is yet to back our calls to build 90,000 social homes a year. We desperately need to see this happen if we're to end the misery and insecurity that comes with living in poor-quality temporary accommodation and other forms of homelessness.
As we move towards an anticipated general election in 2024, we'll continue to challenge all the Westminster parties to be ambitious on tackling the housing and homelessness crises.
So, what should we take away from this conference season?
While understanding of the need for social housing is starting to cut through, one thing that is clear is that people experiencing homelessness and housing insecurity will need your support more than ever over the next year.
Your support and actions have helped us show how many people believe that ending homelessness must be a key priority for each political party.
Let's keep up this momentum and make sure that the next general election is when we finally see a commitment to end homelessness once and for all.
Get involved
Add your name to demand that the UK Government and all political parties commit to ending all forms of homelessness.
Add your name
For media enquiries:
E: media@crisis.org.uk
T: 020 7426 3880
For general enquiries:
E: enquiries@crisis.org.uk
T: 0300 636 1967