Scotland has some of the strongest protections in the world for people experiencing homelessness, but far too many people have to go through the system in the first place. That's why we are calling on all parties to prioritise preventing and ending homelessness ahead of the Scottish Parliament election on 6 May. 
Our call ahead of the election
Scotland must maintain momentum if we are going to uphold our track record as a world-leader in tackling homelessness. At present, around 8% of the Scottish population, or 1 in 12 people, has experienced homelessness. By acting earlier we can prevent people from losing their homes. 
Every political party must make preventing and ending homelessness, including rough sleeping, a national priority. We need your help – join our call and together we can end homelessness. 
Ending homelessness does not mean that nobody will ever lose their home again. It means that, through prevention, homelessness only happens very rarely, that when it does happen it is brief, and that once it has happened to an individual or family it is prevented from happening again.
It means: 
No one sleeping rough 
No one living in transient, dangerous or insecure accommodation. This includes people squatting, living in cars, tents and non-residential buildings, and 'sofa surfing'. 
No one living in temporary forms of accommodation without a plan for rapid rehousing into affordable, secure and safe accommodation. 
No one homeless as a result of leaving a state institution, such as prison or the care system. 
Everyone at immediate risk of homelessness gets the help that prevents it happening.
---
Campaign resources
Read 
Share 
Share your support on social media. You can use the buttons to share the campaign on Twitter or Facebook:
Or download this campaign graphic and share it with the message 'I back Crisis' call to make preventing homelessness a national priority #prioritiseprevention2021'.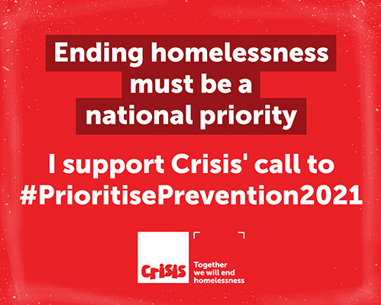 Watch
Watch Prevention Review Group chair Professor Suzanne Fitzpatrick on the need to act earlier and, to stop people from losing their homes in the first place.