Concert for Crisis at St Mary's Church, Primrose Hill
16.10.2019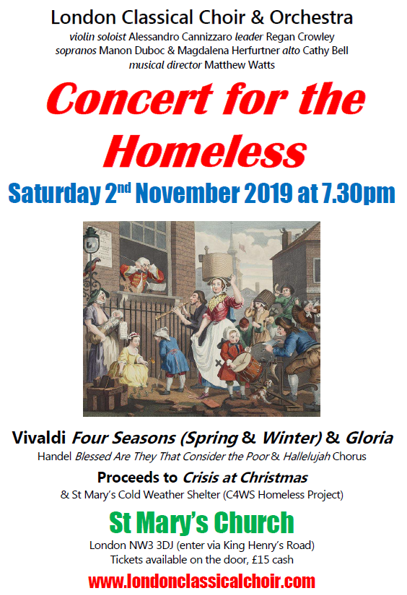 Come along to the London Classical Choir & Orchestra's concert at St Mary's Church, Primrose Hill!
On Saturday 2 November, 7.30-9.15pm, at St Mary's church, Primrose Hill, London NW3 3DJ (enter via King Henry's Road), the London Classical Choir and Orchestra will be performing a Concert for the Homeless (2/3 of the proceeds will go to Crisis, 1/3 to the St Mary's church homeless shelter, minus any costs incurred).
The programme will include two of Vivaldi's famous Four Seasons played by Alessandro Cannizzaro from the Philharmonia Orchestra, Vivaldi's popular Gloria, and songs by Handel, including the Hallelujah Chorus.
Tickets: £15 cash on the door
Enquiries: please call Matthew on 07817 234925, or go to: londonclassicalchoir.com
We hope to see you there!