Crisis Venture Studio blog: Talking about homelessness and your start-up: Small changes can make a big difference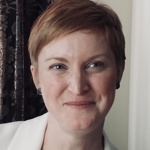 18.11.2020
The Venture Studio from Crisis is looking to work with ventures with innovative technology that need our support to shape solutions with dignity for those experiencing homelessness. We want to end the development of inappropriate and inhumane solutions created without a true understanding of homelessness and how to solve it for good.
If you're a start-up that wants to operate with integrity whilst building a product or service to accelerate an end to homelessness, it's essential that you and your team understand how to talk about homelessness appropriately and powerfully with your end-users, partners, investors, and the wider public.
Because how we talk about homelessness matters. What we say, how we say it, and the images we use have the potential to change how people in the UK see and understand homelessness – to build empathy and collective responsibility, and to drive support for the kinds of actions and changes we know are needed to end homelessness for good.
And just as importantly, what we say, how we say it and the images we use also have the potential to reinforce harmful ideas – even if we didn't mean to. Ideas like people facing homelessness have just made bad decisions; that rough sleeping is the only form of homelessness; that homelessness is too big or too hard to solve. Reinforcing blame, inevitability, and a narrow set of logical solutions.
At Crisis, we commissioned research from the FrameWorks Institute to help us understand the deeply held views about homelessness in the UK and, through robust testing, find out the most effective ways to talk about homelessness to help tap into helpful thinking, and shift harmful thinking in important ways.
Here are five easy things you can do when you are talking about homelessness and your start-up:
#1 Avoid reinforcing the stigma people face everyday for being without a home
Instead of referring to people as 'the homeless', 'rough sleepers' or 'them', use alternatives like 'people who are homeless,' 'people facing homelessness,' 'people experiencing homelessness', 'people rough sleeping'. By addressing people first, and their situation second, you will emphasise our common humanity and avoid labelling.
#2 Use this strong mental image to explain why homelessness happens and show how your start-up's solution works
When you are explaining why homelessness happens, use the image of 'constant pressure' to show the external forces in our lives that can push people into precarious situations, and into homelessness. Like this -
'Poverty pushes people to the brink. Under constant pressure from rising rents and insecure work, a sudden shock like becoming ill or a relationship breaking down, can force people into homelessness.'
Stop using phrases like, 'people become homeless,' or 'we can stop people ending up homeless'. And try replacing them with, 'people are forced into homelessness', or 'we can stop people being pushed to the brink and into homelessness.' Simple changes that work hard to dislodge the idea that homelessness is a choice and that people are to blame.
And if your start-up's solution helps prevent homelessness from happening in the first place, show how it helps relieve the pressures in people's lives - show how it offers people a lifeline to pull them back from the brink, show how it gives people the breathing space they need, show how it helps people withstand the pressures they are under. Watch our introduction video on framing homelessness with the constant pressure metaphor.
#3 Emphasise our common humanity
One of our most powerful ways to talk about homelessness – to show why ending it matters and to show what types of solutions are appropriate – is to emphasise that everyone in our society should be treated like a human being, and has a moral right to safe and stable home they can afford. When talking about your start-up, show how your solution to homelessness treats people with humanity, dignity and respect and position a safe home as a moral right for everyone. Watch our introduction video on framing homelessness with values.
#4 Show the wider experience of homelessness
People in the UK overwhelmingly connect homelessness with rough sleeping only. This narrows public understanding and support for the solutions to homelessness – it narrows what solutions seem most urgent and make most sense. Take every opportunity you can to show the different experiences of homelessness – sofa surfing, temporary accommodation, unsuitable or unsafe accommodation. Even if your start-up's solution focuses on rough sleeping, try to set it in this wider context. Read more about the different types of homelessness. Watch our introduction video on framing homelessness using wider experience and context.
#5 Celebrate working together to end homelessness
Emphasising how our lives are connected and how much we depend on each other is another powerful way to talk about ending homelessness. By celebrating what we can achieve when we work together, in partnership, when talking about your start-up and its work, you will help drive a sense of collective responsibility and energy for ending homelessness. We can achieve much more together than we can apart, and we all benefit.
Putting these ideas into practice when you talk about your start-up and homelessness might seem like small, insignificant changes, but they will make a big difference. They will help people to hear our message about what homelessness is; why it happens; and that homelessness can and must be ended.
If you would like to learn more about framing homelessness and for more practical ideas for putting it into practice – visit the Crisis website for our introduction video series, our framing homelessness toolkit, and a summary of our original research into framing homelessness.
For media enquiries:
E: media@crisis.org.uk
T: 020 7426 3880
For general enquiries:
E: enquiries@crisis.org.uk
T: 0300 636 1967