Three things we'll be calling for during party conferences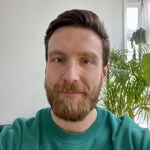 21.09.2023
We have a clear message for politicians during this conference season: you have a chance to make history.
It's easy to dismiss party conferences as irrelevant to most of us who don't follow the daily machinations of politics. But this year, they have added significance: these could be the last events before a potential general election. That means it's a critical time for our Make History campaign.
It's clear that the lack of truly affordable housing and the cost of living crisis are going to be big issues at the election. But how these factors combine to drive homelessness and housing insecurity is not yet a part of the national conversation. We're going to change this.
Where are the main parties on homelessness?
The main parties will be using their conferences to start to set out their priorities ahead of the election. Both Labour and the Conservatives are battling to be seen as the UK's housebuilders and to win voters' trust on their ability to help alleviate the housing crisis.
We've already had some noises from both about how they will help first-time buyers and we're expecting more announcements on housing at Conservative, Labour and Liberal Democrat party conferences.
But they are all missing a focus on those of us who are most at risk of losing our homes, or who don't have a home of our own. No party leader has yet made ending homelessness a priority.
And although a 2024 general election may seem far away, all the parties are starting to write manifestos that will form part of their election pitch to the public.
It's critical that they all include a commitment to make history and end all forms of homelessness. That's what we'll be telling all MPs we meet during the next few weeks.
Let's make history
Every day our services see the impact of our continued failure to act. Families with children growing up in one room, people getting ready for work in cold, draughty cars while others are given no option but to move hundreds of miles away from their jobs, schools and support networks as there are no affordable homes in their area.
Our latest research shows that nearly a quarter of a million households are now experiencing the worst forms of homelessness in England - and it's rising year on year. It's an unacceptable situation.
The good news is that we have the solutions to homelessness - and it's becoming harder for politicians to ignore them.
We have effective solutions
We know homelessness is solvable. But successive governments in England have failed to make the changes needed to do it. That's why we need all political parties to step up and commit to a national mission to end homelessness, with the following three pillars:
First, we must increase the supply of truly affordable homes, including homes for social rent, to prevent homelessness.
Secondly, take urgent action to support people experiencing or at risk of homelessness. We must make sure that the right support is available right now for people who would otherwise be forced into the worst forms of homelessness, like rough sleeping.
Lastly, we must fix the welfare, homelessness and health systems for the long term to make sure everyone gets the help they need when they need it, instead of being forced to cycle in and out of homelessness. This includes an end to the unnecessary and damaging freeze on housing benefit.
How we're going to do it
During this conference season, we'll meet with as many MPs as possible to push the message that the UK Government and all political parties must commit to ending all forms of homelessness.
Thanks to Crisis campaigners emailing their MPs, we're already set to meet several MPs during the conference events.
We'll have a stall at the Conservative party conference and an event at the Labour party conference a week later. This will be run jointly with our corporate partners Lloyds Banking Group who are joining us in calling for more social homes to end homelessness. We're also reaching out to speak to Liberal Democrat MPs as their party conference kicks off next week.
But most of all, we'll be taking the message to all politicians that the British public cares about ending homelessness – and wants to see action to end it for good.
A future free from homelessness is within our grasp – we just need politicians to be brave enough to make it a reality.
For media enquiries:
E: media@crisis.org.uk
T: 020 7426 3880
For general enquiries:
E: enquiries@crisis.org.uk
T: 0300 636 1967