On 10 July our corporate partner and bed retailer Bensons for Beds held their first company-wide fundraising event in support of our mission to end homelessness.
With stores, warehouses and offices located across the country, finding a fundraising event that is inclusive for all colleagues can be challenging for any corporate partner. Staff from Bensons for Beds put their heads together to develop their innovative 'Red Day' spanning the length and breadth of their business.
The day comprised of three key activities, each themed around Crisis' signature red branding:
Wear something red: Employees were asked to wear something red on 10 July and make a small personal donation to Crisis. Colleagues were also invited to dress their tills in red across the Bensons network of 170 stores, in solidarity with Crisis and people experiencing homelessness.
Bake or buy something red: Everybody loves a bake sale, which is why Bensons staff based in their Huncoat head office organised their own bake-off event. Employees showed off their culinary skills, bringing in homemade goodies and even a Crisis-branded cake!
Bid for something red: Staff had the unique opportunity to win a stunning red sofa (with matching loveseat and footstool!) in their company-wide online auction, with the value of the highest bid going directly to Crisis as a cash donation.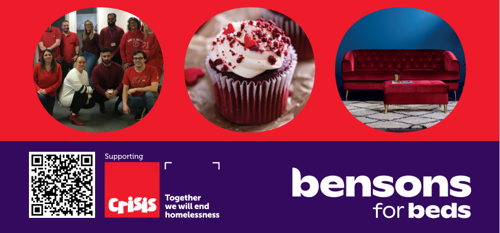 'Red Day' was a fundraising triumph, allowing Bensons staff to come together to spend time with their colleagues whilst uniting under a common cause.
Since the beginning of our partnership last year, Bensons for Beds have gifted an amazing £50,000 to Crisis, with many more exciting activities to come in the months ahead.
Bensons for Beds are also supporting our charity through gift-in-kind donations of over 200 mattresses, which will support both our online Charity shop and members (people experiencing homelessness) who have moved into unfurnished accommodation.
We are excited to see what the future holds in store for our partnership: from all of us at Crisis, a huge thanks to Bensons for Beds for your incredible support.
Together, we will end homelessness.
If you want to find out more about the partnership or Crisis please get in touch with Annika.heinrich@crisis.org.uk