The PwC Foundation has supported Crisis as one of their chosen charities since 2020. Over the past three years, PwC colleagues across the UK supported Crisis in a variety of different ways; from carol singing and bake sales to bingo nights and marathons, raising over £400,000 for Crisis. As well as fundraising, PwC staff have also put in hundreds of hours of volunteering time to support our Crisis shops and warehouses and at Crisis at Christmas.
May is a special month at PwC, as it marks the firm wide 'One Firm One Day' (OFOD) initiative, where colleagues dedicate a day in their calendar to give back to worthy causes and their local communities.
OFOD 2023 took place on Friday 19th of May and PwC took part in several events support Crisis and other worthy causes, including a bingo night and charity fun run in Hyde Park.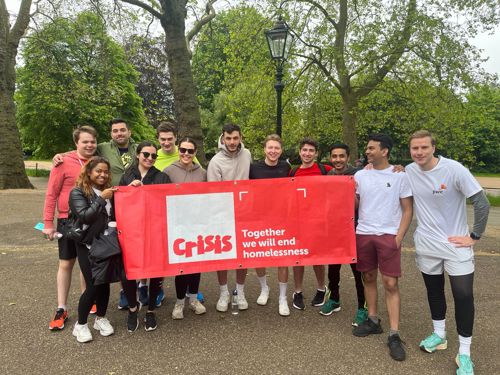 PwC runner smashing their £2,000 target at the Hyde Park Fun Run
PwC staff are also taking over Crisis' new Brick Lane shop during the month of May, lending a hand to the fashion forward crowds in the heart of East London's vintage scene.
This year, PwC will be taking their passion for fashion a step further and hosting an evening fashion show in support of Crisis on Tuesday 13th of June. This event will include models from PwC and stylists from Crisis' very own shops team, with proceeds from ticket sales and all donations on the night going to Crisis.
Following the success of last year's pop-up Shop from Crisis in PwC's London offices, the pop-up shop will return in June, supported by PwC volunteers and the Crisis retail team. Over two days on the 14th-15th June, colleagues will be able to shop special curated second hand bargains whilst supporting Crisis' mission to end homelessness.
All of us at Crisis would like to thank PwC for their ongoing support for Crisis and our mission to end homelessness.
Want to get your colleagues engaged in exciting fundraising and team building activities? Get in touch at Corporatepartnerships@crisis.org.uk