Volunteers are essential to the Crisis Skylight Croydon, enabling us to offer more to our members. Coming from a multitude of experiences, volunteers give members a broader view of the world and empower members by giving us their free time. We work with both volunteers from the wider community and member volunteers.
Member Volunteering 
Through volunteering, members can develop new skills, get recent experience for employment, give a sense of achievement and raise self-esteem. Having members as volunteers is incredibly important as it enables them to give their feedback about the ways the service can be developed and improved. Members have helped plan important Wellbeing and International Women's Day events.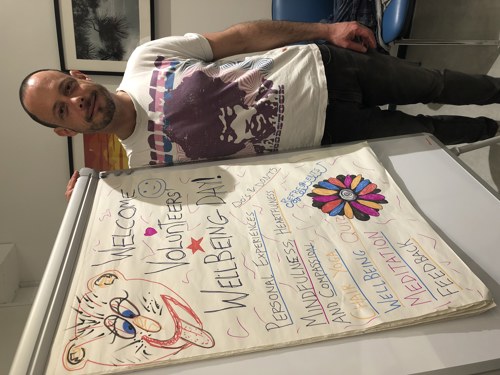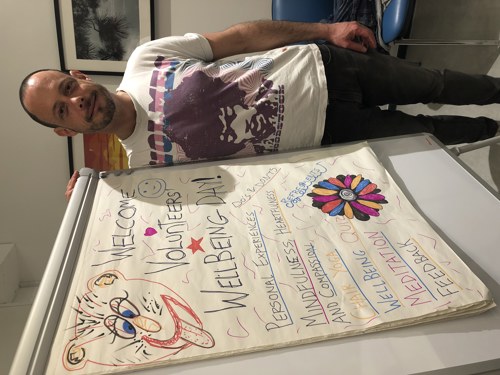 What did Volunteering at Crisis Look Like Before the Pandemic?
Before the Covid 19 Pandemic Crisis Skylight Croydon volunteers supported Crisis by being:
Classroom Assistants- supported our members to progress in one of our diverse range of classes.
Breakfast Volunteers – supported a Breakfast Club for rough sleepers to provide a simple nutritious breakfast and introduce them to what Crisis Skylight Croydon could offer.
Event volunteers - organised events, marketing campaigns and helped to design and deliver workshops such as the Volunteer Wellbeing day. Event volunteers helped to write a newsletter and are now working on a newsletter describing life in "lockdown".
Member Ambassadors – members are involved in promoting the service with partnership agencies and their service users.
Reception Volunteers – supported our Initial Contact and Engagement team to welcome new members into our building.
"I volunteer once a week on the reception team. This primarily involves welcoming anyone who comes into the building and directing them to the help that they need. However, I also do a variety of other things, such as answering the telephone, sorting out clothing donations, laundry, the tea and coffee area, typing Initial Contact Forms onto the Crisis database, and many other odd jobs that need doing! When not with the reception team, I have also helped with Crisis' cooking lessons. During the lockdown, since I haven't been able to volunteer at the Skylight Centre, I have been writing a recipe booklet for members to use when they move into private rented accommodation." Andrew, Reception Volunteer
What Does Volunteering Look Like Today?
During the Covid 19 Pandemic we are now looking at ways in which volunteers can support our service remotely. Roles are coming up to help ensure people, who were temporarily placed in hotels during the pandemic, don't go back to living on the streets.
Wellbeing Volunteers - Crisis Skylight Croydon is leading a new pilot scheme, working to support people who have moved into local hotels during this pandemic. Volunteers have been trained to deliver 'wellbeing' calls to residents, checking on their general health and wellbeing and helping them to feel less isolated.
We will also be looking to develop this role in a way that will support members both before getting housed and after. Watch this space for further information.
Volunteer Hub - open to support members who would like to volunteer outside Crisis. At the Hub members can get support with researching for volunteer opportunities, and the recruitment process. At the moment this is being done remotely.
Rainbow Ambassadors - this role is for Members who would like to promote awareness around LGBT . This involves creating and delivering training around LGBT and homelessness and planning for LGBT events e.g. London Pride.
Quotes from our volunteers
"We are a team, my partner and I joined forces with the Event Volunteers to do teamworking and found a group of lovely people that has been enjoyable to work with and made me feel comfortable, and calmed" Member Volunteer.
For more information contact Sally Wyatt at sally.wyatt@crisis.org.uk