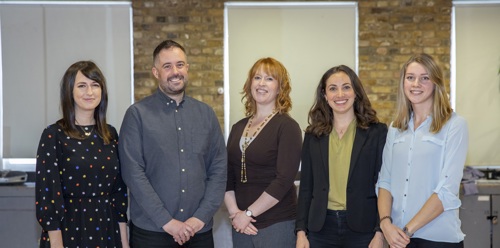 (From left to right: Lucy Bromley, David Carr, Bea Theakston, Cathryn Evans & Emma Platts)

Lucy Bromley - Philanthropy Account Manager
'I have been working in the homelessness sector for 8 years now. My career has varied between street outreach, working early morning or late night shifts alongside people rough sleeping, to supporting people leaving prison with complex housing issues.
I'd always been aware of Crisis and had constantly been impressed by not only their innovative frontline work, but their progressive and outspoken campaigning. Crisis has always stood out to me as an organisation that is fearlessly fighting for the rights of homeless people across the UK.
I have worked here for almost 5 years now and before I was part of our fundraising team, I was working as a Housing Coach in our Crisis Skylight London centre. My time within that team has given me first-hand experience of the important impact that Crisis has on our members. We are only able to continue that work through support from our incredible donors, so I feel privileged to now be in the position to speak with them every day and show them just how their support is changing lives.'

David Carr - Senior Philanthropy Lead
'I first got involved with Crisis in 2013 when I volunteered in our largest Christmas centre where we sleep 250 rough sleepers for the Christmas week. The week I spent volunteering really inspired me and to witness the difference in physical and mental states of our guests from when they first arrived to when they left us was amazing.
I spent the following six years combining working for a big corporate whilst getting more and more involved with Crisis. In 2019 I made the decision to leave corporate life and work full time for Crisis. To be surrounded by people who share my passion and belief for ending homelessness for good is amazing.
Our frontline services across the country and the policy and lobbying work we do to try and prevent homelessness in the first place is only possible with the support of our amazing donors.'

 Bea Theakston - Head of Partnerships and Philanthropy
'I joined Crisis in January 2017 because I was drawn to be part of this movement to end homelessness. I've spent the last 15 years working for charities all doing vital work across a range of social issues; predominantly mental health and disability, but it was the scale of ambition and vision at Crisis, to really end homelessness, not just manage it, that made me realise my place was here.
No one in 21st century Britain should be without a safe secure place to live. We know how to end homelesssness, what it will cost and ultimately, what it will save us as a society, and now we're working tirelessly to get there.
But it's not just the longer term vision and plan that inspires me, it's how we, as Crisis, work alongside some of the most vulnerable, traumatised, yet talented, skilled, warm hearted and passionate people on their journey out of homelessness for good. Seeing what we can achieve together, every day, makes it a real privilege to be part of Crisis.'

Cathryn Evans - Head of Philanthropy
'Before joining Crisis, I worked in political fundraising for six years. I worked through two General Election campaigns and a referendum, all of which went the 'wrong' way! After the EU referendum result, I felt I needed a change. I decided I wanted to be closer to the people who would benefit from the funds I was helping to raise.
At the time, I was walking past people who were homeless every day on my way to and from work. I wanted to help, so I got involved in a local homeless shelter and volunteered there every week during the winter. One day an ambulance turned up and asked if they could drop off a man who had just come out of surgery. His friends gathered around him as he lay, pale and shaking, on the floor and I couldn't believe that someone in that state could be left in a crowded night shelter. It was then I decided I wanted to work with philanthropists to end homelessness.
I'm so proud to be leading the Philanthropy team at Crisis. Every day I am inspired by how passionate our supporters are about ending homelessness. It's so great to work with people who are eager to use their resources and skills to change things in our society - and that goes for the staff here as well as our amazing supporters.'

Emma Platts - Philanthropy Administrator
'I previously worked in Trusts fundraising, and have been involved in community development projects overseas.  A few years ago, I started volunteering for a group that distributed food packs to rough sleepers. After hearing the deeply personal stories and experiences of people who were pushed into homelessness, I wanted to get their questions answered.
To live in one of the world's richest countries, and witness the growing inequalities I see on a daily basis is unjustifiable. I am inspired by the potential we have, together, to bring the positive social changes that are so desperately needed. 
Everyday, I am in awe of the ambition and energy that comes from working at Crisis, and am really proud to be part of a movement that simply won't stop until our work is done. Our members are at the heart of our work and we don't lose sight of that.'
If you'd like to get in touch with any of the team, please email us at philanthropy@crisis.org.uk
Article date: 14.05.20