The Homelessness Monitor is a longitudinal study, commissioned by Crisis and is funded by Crisis and the Joseph Rowntree Foundation, providing an independent analysis of the homelessness impacts of recent economic and policy developments in the United Kingdom. It considers both the consequences of the post-2007 economic and housing market recession, and the subsequent recovery, and also the impact of policy changes.
The first English monitor was released in 2011 and these pages document the change in homelessness trends since this baseline data was undertaken in England, Scotland, Wales and Northern Ireland. Statutory homelessness policy has diverged significantly across the UK since devolution in 1999 and is a contributing factor in explaining the variation in the levels and patterns of homelessness.
The research is carried out by Suzanne Fitzpatrick, Glen Bramley and Beth Watts at Heriot-Watt University, Steve Wilcox former professor at the University of York, and Hal Pawson at the University of New South Wales.
The following data is based on the latest published Homelessness Monitor in each country – England (2017), Wales (2015), Scotland (2015) and Northern Ireland (2016). For full research findings please download the monitor reports in the knowledge hub library.
Rough sleeping levels 
Rough sleeping levels in England have increased by 132% since 2010 and by 16% since 2015. The table below shows there are regional trends to these patterns. The levels of increase have been higher in the South of England at 166% and London at 132% since 2010.
In the past year there was a higher increase in rough sleeping levels outside of London at 21%, compared to only 3% in the capital.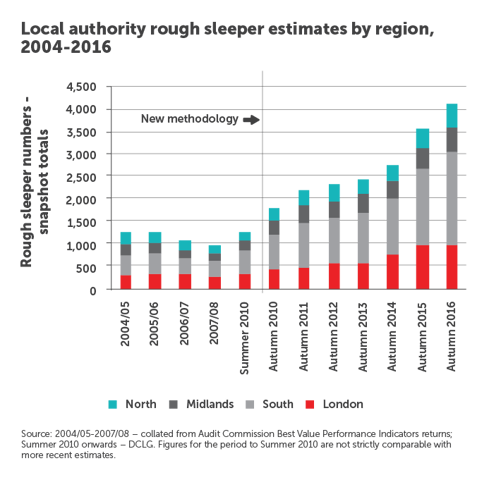 These statistics are predominantly collected through estimates and even where actual street counts are undertaken they are an approximation of the true scale. The real figures are likely to be higher and are best regarded for the basis of trends rather than an absolute number.
Statutory homelessness levels
People who approach local authorities for homelessness assistance are entitled to an assessment to see if they are eligible for homelessness support. These assessments are to establish whether someone is 'statutory homeless' and dealt with under the provisions of the Housing Act 1996.
The table below gives a breakdown of the decisions made by local authorities. 58,000 households were accepted as homeless in 2015/16, a 34% increase since 2009/10 (assessed as unintentionally homeless and in priority need), with a 6% rise in the past year.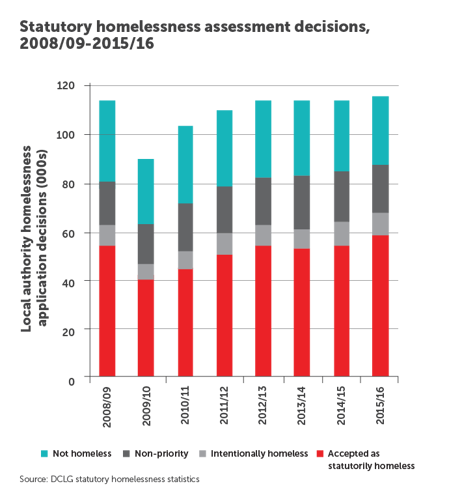 This only gives part of the picture of homelessness. Since a housing options approach was introduced in England more households have received homelessness prevention and relief assistance, see table below on homelessness prevention and relief.  
Causes of homelessness
Official figures show the main cause of statutory homelessness is the ending of an assured shorthold tenancy (AST) which is the standard contract for people living in the private rented sector. The percentage of all acceptances caused by the ending of an AST was 11% in 2009/10 and now stands at 31% - a quadrupling of cases in this period.
The sharp increase shown in the graph below demonstrates the impact of the current rental market on homelessness and the impact of welfare reform changes. Homelessness attributed to mortgage arrears and repossessions has continued to fall in recent years and is at historically low levels at 1% of acceptances.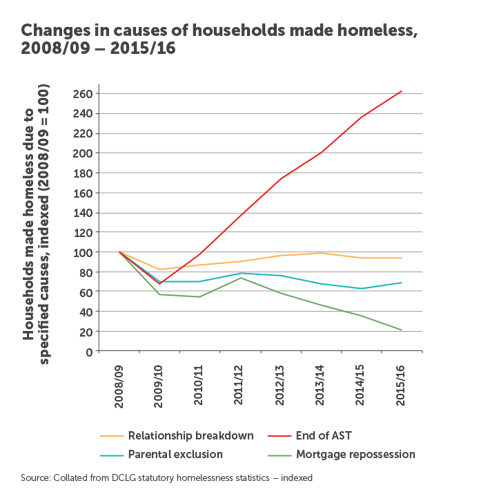 Parental exclusion and relationship breakdown have remained relatively stable. As above the statutory homelessness figures present only part of the picture. As people who aren't accepted as homeless are not recorded there may be an under representation of homelessness due to rent arrears.
Homelessness prevention and relief 
Homelessness prevention and relief refers to informal advice and assistance undertaken by local authorities outside of the statutory framework. Activities include help to find a private tenancy, debt advice or family mediation to resolve homelessness.
Combined with the statutory homelessness acceptances there were 271,000 local authority case actions to address homelessness in 2015/16. The graph below shows that this represents a 32% rise since 2009/10 with a slight decrease of 2% since the previous year for the second year running.
It is unlikely this drop in cases is due to a decrease in demand as two thirds of local authorities said that the overall flow of homelessness people had increased. Funding constraints and service capacity is most likely to explain why prevention and relief caseloads have decreased.
Hidden homelessness
Hidden homelessness refers to people who are considered homeless but whose situation is not visible either on the streets or in official statistics. This includes sofa surfers and people involuntarily sharing with others on a long term basis. 
Using household surveys, it is possible to build a picture of hidden homelessness in terms of concealed households, those sharing accommodation and overcrowded households. All of which remain heavily concentrated in London.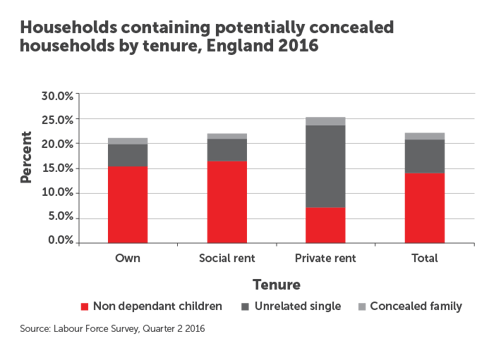 The above graph looks at potentially concealed households by tenancy. In 2016 the number of adults in concealed household units was estimated at 3.34 million which have increased by one third since 2008. 1.45% of households shared in 2016 and is most common for single person households. There is a higher concentration of sharing and concealed households in the private rented sector.
Housing demand and supply 
Average house prices in Britain have recovered unevenly since the crash in 2007. House prices in London have risen by 48% between 2007 and 2015. The graph below shows the changes to house prices since 2007. It shows that price rises in London and the South East and East have risen far more than the rest of England.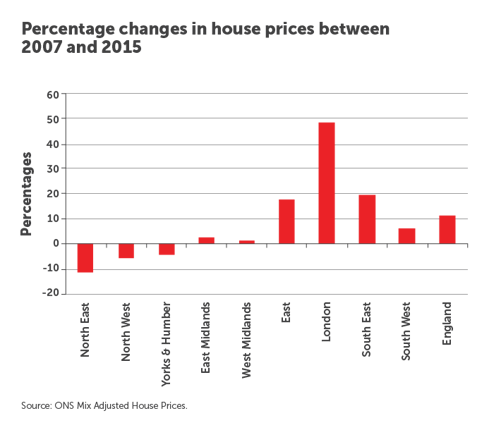 There still remains a shortfall in the levels of new housebuilding relative to household formation. Whilst there was a slight upturn in new housebuilding in 2015/16 new housing provision would still need to increase by a fifth to keep up with new household formation. Access to housing remains a large problem for homeless people.
Almost two thirds of local authorities said it was difficult to access social tenancies for homeless applicants due to shortage of social lettings in their area and housing associations being increasingly selective on tenants. 
Welfare policies
The shortage of affordable housing for low income households in parts of England continues to be intensified by welfare policy. The welfare changes introduced in this decade and those planned for the coming years will reduce the incomes of poor households by some £25 billion a year by 2020/21. These have more of an impact on particular groups of people.
In the 2016 survey local authorities reported that single people aged under 35 and large families were more difficult to house. The homelessness monitor series has found that welfare reform has been making both private landlords and housing associations more risk averse with regard to letting to households in receipt of benefits.