Tesco Mobile gave Crisis more than just the gift of connection in Christmas 2021. The incredible team raised £27,815 through a digital, social media and in-store campaign in support of our Crisis at Christmas appeal, in addition to donating 500 smartphones and 50 tablets for our Crisis at Christmas guests to use. Our guests will use their new smartphones to stay in touch with essential support services, family and friends as they work to leave homelessness behind for good.
The campaign
In 2021, Tesco Mobile continued to support our mission to help end homelessness and raised awareness of the growing importance of digital connectivity in accessing essential services.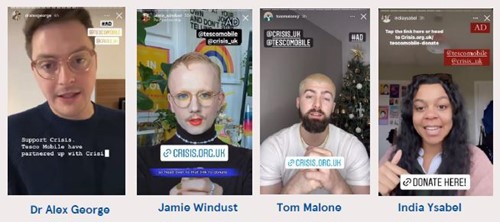 Throughout the festive period, Tesco Mobile's role was to raise awareness and amplify the Crisis at Christmas campaign, highlighting how the gift of connection can help someone start their journey out of homelessness. With research revealing that every year, £5 billion is spent on unwanted gifts - Tesco Mobile joined forces with us and encouraged colleagues and customers to give the gift of a fresh start this Christmas, to someone who really needs it.
708 donations were made via the Tesco Mobile Christmas appeal, totalling an incredible £27,815. These donations will fund Crisis' work at our year-round Skylight centres, policy and campaigning work in addition to our annual Christmas project.
The campaign also succeeded in raising vital awareness of the Crisis at Christmas project, at a time when competition between different charity appeals is at its strongest. Celebrities, including the UK Youth Mental Health Ambassador and Love Island star Dr Alex George and Gogglebox favourite Tommy Malone shared the appeal on social. Influencers and social media activists including Dominique Palmer, Jessie Cave and India Ysabel also shared the appeal on Instagram, garnering support and donations from their followers.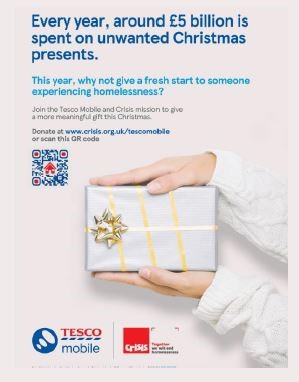 Additionally, 40-second trails played on Absolute Radio highlighted the value of unwanted gifts given every year and Crisis and Tesco Mobile's mission to encourage people to give a more meaningful gift this Christmas.
"Communication is key to everything.
Simple as that".
Tesco Mobile contributed 500 smartphones in support of our 2021 Crisis at Christmas project. In addition, 50 Tesco Mobile tablets were donated, which guests were able to borrow to access our online programme of activities and entertainment. The two weeks of activities saw 180 participants across 35 live sessions, made possible through guests borrowing tablets to join sessions.
The phones and tablets donated to Crisis at Christmas have helped our guests in so many ways: enabling our Advice Teams to keep in regular contact with guests; conduct searches for jobs and accommodation; participate in online wellbeing sessions and reconnect with family and friends. All of which has made a massive difference to their emotional and physical wellbeing.
Crucially, the 12-months of connectivity included with the smartphones allows our year-round Christmas Case Management team to stay in regular contact with guests as they work with them to secure a sustainable end to their homelessness. As one Christmas guest said:
"They gave me an android phone with a year paid up. How fabulous is that? With a little bit of training it will allow me to communicate with all the relevant people. You can't exist in any country these days unless you're conversant with email and texting. The difference it's going to make is now I'm in communication with people. That is key. Communication is key to everything. Simple as that."
Thank you
A huge thank you to everyone at Tesco Mobile for your incredible support for our Crisis at Christmas guests, and to every single person who gave the gift of a fresh start to a person experiencing homelessness for Christmas 2021.